PLANET ISKCON


A daily broadcast of the Ultimate Self Realization Course Wednesday 17 August 2011 The Supreme Personality of Godhead, Lord Sri Krishna, and His eternal consort, Srimati Radharani are enjoying transcendental pastimes in the topmost planet of the spiritual world, Sri Goloka Vrindavan. They are beckoning us to rejoin them. (Click on photo to see a larger image.) Our Mission: To help everyone awaken their original Krishna consciousness, which is eternal, full of knowledge and full of bliss. Such a global awakening will, in one stroke, solve all the problems of the world society bringing in a new era of unprecedented peace and prosperity for all. May that day, which the world so desperately needs, come very soon. We request you to participate in this mission by reviving your dormant Krishna consciousness and assisting us in spreading this science all over the world. Dedicated with love to ISKCON Founder-Acharya: His Divine Grace A.C. Bhaktivedanta Swami Prabhupada, our beloved spiritual master, and to you, our dear readers. Special Announcement: Connect With Other Members of this Course. Join this Conference: http://groups.google.com/group/sda_students Today's Thought: May All Imprisoned Souls Now Be Liberated Uploaded from Bhaktivedanta Ashram, Austin, Texas USA May all the inhabitants of all the many material universes now be blessed to join together in sankirtana, the congregational singing of the transcendental glories of the Supreme Lord. In this sankirtana all the residents of this material existence will be liberated from their entanglement in the cycle of birth and death. They will all be released from this hellish prison of material existence, and crossing the insurmountable Viraja River, the boundary between the material world and the spiritual world, they will all joyfully regain their lost positions in the transcendental pastimes of the Supreme Lord Sri Krishna. Sankarshan Das Adhikari Krishna is Awaiting Your Return to His Abode http://www.backtohome.com/images/Krishna/Krishna_w_flute.jpg Answers by Citing the Vedic Version: Question: Krishna Known Before 5,000 Years Ago? Please accept my respectful obeisances. Krishna appeared on this earth around 5,000 years back. So before then were people aware that He is the Supreme Personality of Godhead? Thanks and regards, Akshay Sood Answer: From the Beginning of Creation As evidenced by the Brahma Samhita, the prayers of Lord Brahma composed at the beginning of the universe 155 trillion years ago, Krishna has been worshipped as the Supreme Lord from the earliest time of this universe when it was created. In Chapter 5, Text 1 of that great transcendental literature Lord Brahma states: varah paramah krsnah sac-cid-nanda-vigrahah andir dir govindah sarva-krana-kranam The Supreme Personality of Godhead is Krishna, who has a body of eternity, knowledge and bliss. He has no beginning, for He is the beginning of everything. He is the cause of all causes. Sankarshan Das Adhikari Transcendental Resources: Receive the Special Blessings of Krishna Now you too can render the greatest service to the suffering humanity and attract the all-auspicious blessings of Lord Sri Krishna upon yourself and your family by assisting our mission. Lectures and Kirtans in Audio and Video: Link to High Definition Videos Link to Over 1,000 Lecture Audios Lecture-Travel Schedule for 2011 http://www.ultimateselfrealization.com/schedule Have Questions or Need Further Guidance? Check out the resources at: http://www.ultimateselfrealization.com or write Sankarshan Das Adhikari at: sda@backtohome.com Get your copy today of the world's greatest self-realization guide book, Bhagavad-gita As It Is available at:http://www.ultimateselfrealization.com/store Know someone who could benefit from this? Forward it to them. Searchable archives of all of course material: http://www.sda-archives.com Receive Thought for the Day as an RSS feed: http://www.backtohome.com/rss.htm Unsubscribe or change your email address Follow us on Twitter: http://twitter.com/Daily_Thought Thought for the Day on Facebook: http://www.facebook.com/Ultimate.Self.Realization Copyright 2005-2011 by Ultimate Self Realization.Com Distribution of this material is encouraged. Simply we request you to acknowledge where it is coming from with a link to our sign up page: http://www.backtohome.com Our records indicate that at requested to be enrolled to receive e-mails from the Ultimate Self Realization Course at: This request was made on: From the following IP address:
"Anyone who has accepted the two lotus feet of Lord Caitanya as their only asset knows the true essence of devotional service.
If anyone gives submissive aural reception to the pleasing and sweet pastimes of Lord Caitanya, then immediately his heart becomes cleansed of all material contamination."
(Savarana-sri-gaura-mahima by Srila Narottama Dasa Thakura)
Let us also give submissive visual reception to the pleasing and sweet darsana of Lord Caitanya.
Please know that by chanting the holy name all anarthas will be removed. When our heart is cleansed from all this anartha dust, the form, qualities and pastimes of the Lord will automatically manifest themselves on the clear mirror of the purified heart. All this will be understood clearly when the coverings are removed from our heart. But it is important that you make special effort to avoid the offenses so that the holy name can come through purely and gives you all the perfections.
---
---
---
---
---
---
---
---
---
---
---
---
Jaya Lord Balarama!
Once again, we invite you to the grandest event on our festivals' calendar: Sri Krsna Janmastami, the appearance day of the Supreme Personality of Godhead.
Monday 22nd August is the day to remember!
And it's this coming Monday!
We will celebrate Srila Prabhupada's reverred appearance day on 23rd August this year. Our Founder-acarya was born on the same day that Nanda Maharaja hosted a grandiose celebration to proclaim the appearance of his beloved son, Nanda-nandana.
After the previous day's jubilation, we are all invited to renew the festive mood in honour of Srila Prabhupada's Vyasa Puja.
Diary of a Traveling Sadhaka, Vol. 7, No. 14
By Krishna-kripa das
(July 2011, part two)
Croatian Harinama Tour
(Sent from Govindadvipa, Northern Ireland, on August 16, 2011)
Where I Went and What I Did
The entire end of July I spent on the Croatian harinama tour organized by devotees from Karlovac, Croatia, headed by Mohan and Adbhuta Dhatri Prabhus (the temple president and his wife), and Dasaratha and Syama Rasa Prabhus. We would chant an hour and a half each morning and from one and a half to two and a half hours in the evening. Often as many as one hundred people would watch the evening chanting, some staying for the entire time. The towns were mostly tourist towns, and I was able to give out invitations to attracted people for their local temples in London, Belgium, and Holland. This was my third year on the tour, and I hope to go next year, hopefully to the southern part of Croatia or the other countries to the south. They go to eight countries altogether. I play a role on the tour as the chief male dancer. To learn more about the Karlovac devotees and their tour, check out their web page, www.avadhuta.hr, or visit their page on Facebook, "Mediterranean Meets India".
There were not many classes on the tour to take notes on, but I include some letters that Lokanath and Sacinandana Swamis sent to the tour members on the topic of distributing the holy name.

Itinerary
Belfast: August 17–18
Trutnov Open Air Festival (Czech Woodstock): August 18–21
Czech Republic?: August 22–23 (Janmastami, Vyasa Puja)
Polish tour: August 24–28
Kirtana-mela, Leipzig: August 29–September 3
Katowice, Poland?: September 4
Lvov, Ukraine?: September 5
Kharkov, Ukraine?: September 6–8
Ukraine Festival: September 9–15
Boston Ratha-yatra and Prabhupada festival: September 18
New York: September 19–23?
Philadelphia Ratha-yatra: September 24–25
Albany: September 26–30?
Arizona, Nevada, Florida: October–December
Mediterranean Meets India—The Croatian Harinama Tour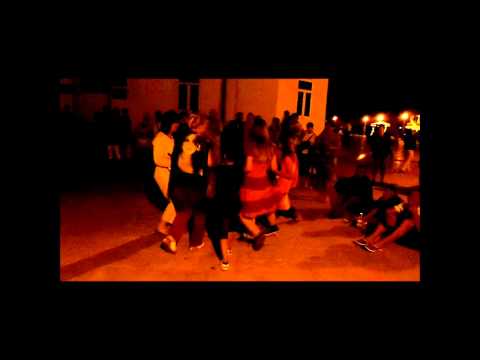 About ten devotees went out twice a day on harinama, getting rained out on just one day of the twelve I spent on the tour. I invited Ali Krishna, a friend from Gainesville, to come for a few days after the Serbian Summer Camp, and she helped out by leading kirtana, playing mrdanga, dancing, and cooking lunch. Later one couple joined us in which the lady was a beautiful singer and the man was an expert photographer. We went to a different town almost every day, and I will describe the ones that were special for me in some way.
Krk:
A young London man said, "I like everything, especially the dancing. I will come to your restaurant in London. I like supporting vegetarianism." That day Ali Krishna and I were the main dancers.
Opatija: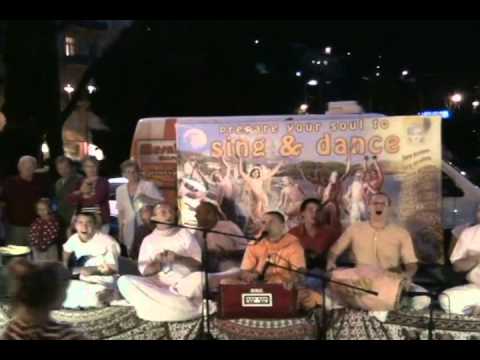 Syama Rasa Prabhu sang one of my favorite Hare Krishna tunes. Four little girls danced and did gymnastics in front of our party, at one point dancing in a circle with the male dancers. Several tourists from Israel danced with the devotee ladies. A crowd of perhaps a hundred people enjoyed watching the festival. One Israeli lady told Ali Krishna, "All you people look so beautiful, I could cry!" Later, looking again at the videos of it, I felt the same way. Each night Mohan asked Ali Krishna if she was happy. Each night she said she was happy seeing so many happy people. It reminded me that a great soul is distressed to see others' distress and is happy to see others' happiness.
Novi Vinodolski:
Even as we set up, a crowd of a hundred people gathered. Some stayed the whole hour and a half.
Senj:
We set up in a square away from the sea and thought too few people would attend, but we had a good crowd, some people staying the entire time. The employees at the nearby restaurant facilitated us in different ways and were happy we were there. I played the harmonium and sang for the people still around while we were packing up, and people appreciated it. I used the bathroom at the restaurant at the end of the evening, and the employees were in great anxiety when the van of devotees drove off without me, not knowing that I was riding in another car. It was striking to see their concern for someone they did not even know.
After Senj, we stayed in a devotee's house overnight. He had cows, and we got fresh milk.
He also had prickly pear cactuses in his garden, and Anamsa dd from Mexico, cooked them up for breakfast in two different ways, something I had never experienced before. They were a little sour, but I liked them.
Pag:
As we were bringing our equipment to set up, some people in a boat saw me and shouted, "Hare Hare!" Soon after another devotee in our party saw a sailor with a uniform sporting the name "Vrindavan" in the Indianized style of writing with the bar across the top of the letters.
It turned out he was the captain of the yacht named "Vrindavan" that was moored just next to where we set up. One of the owners of the boat is a Jew from England with a great interest in Hindu culture, and so he named his two million euro yacht, "Vrindavan". After our performance, we all had our picture taken on the boat along with its crew members.
One Polish lady on the crew was very much attracted by the devotees happiness and process for attaining it. During our performance that night, three girls from Slovenia danced with Prema Gopi dd, and a few people in the crowd imitated my dancing from a distance.
More people danced with us at the end of the evening. I gave all those dancers prasadam.
Zadar:
Zadar was a new city for me and was best of all because I felt I connected with a lot of people.
Two Belgian high school girls danced with us five times in one evening with great delight. I gave them the invitations for Radhadesh and Antwerp temples.
One young lady from London came up to our table after our performance to ask Mohan a single question but ended up talking for over ten minutes. I gave her a card for our Soho Street center and told her about the lunch program, Sunday feast program, and Govinda's vegetarian restaurant. A couple overhearing our conversation remarked that they studied English at the Mayfair School on Soho Street and had many times seen the devotees chanting there as they headed to and from Oxford Street.
Two Dutch high school graduates watched us, smiling for probably an hour and moving along with the music. I waved to them as they left. Later they returned, and I gave them invitations to our Den Haag temple, the nearest to their home, and also gave them the Amsterdam card with the mantra on it. Prema Gopi dd from Slovenia invited them to dance, and although they had to go soon, they stayed and enjoyed the dancing, and their father recorded it on video.
We had a great location by the walkway by the sea, and there was a steady stream of people walking past us, many of whom stopped, at least for some time.
We took prasadam at a devotee's house one Saturday near Zadar. On the way to the house, we saw an abandoned tank and buildings with parts of the walls and roofs blown out. This was from the war with Serbia. The devotee whose house we ate at said all that was left of his house was the four walls that now comprise the temple room. He fought in the war, but escaped to Zagreb after a twenty days or so. It wakes me up to the reality of war in the material world to see and hear these things which are not a part of our experience in America.
As usual it was a pleasure to be part of a team so dedicated to sharing the Hare Krishna mantra with others as the team from Karlovac. I like the fact that Mohan encourages the people to listen carefully to the mantra to practically experience its powerful effect. Many people stay and listen for a while, freeing themselves from karma and awakening their devotion for the Lord, knowingly or unknowingly.
On the bus from Knin to Zagreb to meet up with the devotees traveling to the Polish Woodstock, I met a girl from Brooklyn who had seen the New York Ratha-yatra and festival several times and the Los Angeles Ratha-yatra once. One older lady introduced herself as a resident of Watford and asked if I had been to the Hare Krishna temple there. I told her I was just there on July 6. She told me she has been meaning to come to the Bhaktivedanta Manor Open House, and she knew of the Manor's connection with George Harrison. You never know who you will meet when you travel nor what their connection to Krishna may be.
In Zagreb I chanted in front of Avenue Mall for an hour or so, while waiting for the Woodstock bus. A few curious people looked and gave me 7.5 kunas or 1 euro in donations. I slept so poorly last year on the bus, this year I decided to lay down on the floor of the bus, and I was more successful. The ride was two hours shorter this year, just 17 hours, another relief. I was happy to see my friends again in Kostrzyn where would do the Woodstock sacrifice again, this year being my eleventh.
Insight from Lectures
Lokanath Swami [from a letter to the Croatian harinama devotees]:
I heard the statement of Bhaktivinoda Thakur saying, 'I would accompany the devotee who goes for the first time to a new territory to chant the holy name.' So the whole parampara is with you. You are doing this on behalf of Caitanya Mahaprabhu and the previous acaryas. They are all pleased with this endeavor. They will shower flowers of mercy on you all who are making
inroads into new territories. You are conquering those lands. You are cutting a channel from Mayapur, from where the original love of Godhead has spread. You are tributing to distributing love of Godhead. All glories to all you spiritual heroes.
Sacinandana Swami [from a letter to the Croatian harinama devotees]:
It is so nice for me to hear how you have dedicated your life to spreading the holy name. Really, I'm so inspired that I even considered to leave everything and go with you on that tour.
Let us never forget that in order to become real servants of the holy name, we should work on our spiritual life in sincerity.

Please know that by chanting the holy name all anarthas will be removed. When our heart is cleansed from all this anartha dust, the form, qualities and pastimes of the Lord will automatically manifest themselves on the clear mirror of the purified heart. All this will be understood clearly when the coverings are removed from our heart. But it is important that you make special effort to avoid the offenses so that the holy name can come through purely and gives you all the perfections.
Anyone who chants the holy name will by and by, depending on the sincerity, become free from false ego, which involves the gross and subtle bodily conception of life. Once this false ego with all its byproducts is taken away, one will clearly realize one's constitutional position or original spiritual form. It is only to such a person who is in his own spiritual form that the transcendental form of Lord Krishna becomes visible. Material eyes cannot see the Lord, only spiritual eyes which are part of the spiritual body can. It is only by the mercy of the holy name that the jiva can realize her constitutional position and then become totally attracted to the form of Krishna. So please have full faith that nama seva or serving the holy name is the essence of all of one's activities, because it provides everything that is required. By praying for the desire for serving the holy name with your body, mind and words, we become stronger and stronger and illuminate the innermost chamber of your heart.

If you have parallel lines, make a special endeavor to know Krishna better by regularily reading the pages of the Srimad-Bhagavatam, then you will certainly become more able to truly connect with Krishna and chant with what is called sambhanda—chanting with pure connection.

Mohan Prabhu:
Maya can do only one thing—break our determination to be Krishna conscious.
Other people tried doing Croatian harinama tours, but they made the mistake of trying to do something big from the beginning. We were successful because we started small and gradually increased.
-----
ceto-darpana-marjanam bhava-maha-davagni-nirvapanam
sreyah-kairava-candrika-vitaranam vidya-vadhu-jivanam
anandambudhi-vardhanam prati-padam purnamrtasvadanam
sarvatma-snapanam param vijayate sri-krishna-sankirtanam
"Glory to the Sri Krishna sankirtana, which cleanses the heart of all the dust accumulated for years and extinguishes the fire of conditional life, of repeated birth and death. This sankirtana movement is the prime benediction for humanity at large because it spreads the rays of the benediction moon. It is the life of all transcendental knowledge. It increases the ocean of transcendental bliss, and it enables us to fully taste the nectar for which we are always anxious." (Sri Caitanya-caritamrita Antya 20.12)
Janmashtami commemorates the earthly appearance of Krishna, who is described in India's sacred writings as God Himself. One of the biggest religious festivals in the world, it is celebrated by nine hundred and thirty million people around the world–and two million in the US alone. To devotees, it's Christmas and New Year's in one, a day of deep spiritual renewal and celebration that effectively finishes an old year and begins a fresh one.
But why Janmashtami, you may ask? What's so special about Krishna, as opposed to any other form of God? It's His personable-ness. He reciprocates in unique, personal ways with every devotee who offers Him love—He is the most adorable, mischievous son, the most romantic lover, the most compassionate friend. And on Janmashtami, devotees celebrate Krishna in all of these aspects. For just as Krishna reciprocates individually with His relatives and confidantes, he responds to the distinct feelings and desires held most deeply in the heart of every single worshipper.
So remember that whatever way you worship Krishna on Janmashtami, He will reciprocate with you accordingly. It's a meditation that makes for an extremely rewarding devotional experience…..

Click here to read the rest at Krishna.com
Share this story your way:
Why do millions of people, in India and worldwide, continue to celebrate Janmashtami—the appearance anniversary of Lord Krishna—more than fifty centuries after the fact? Is there any basis for accepting Krishna as the Supreme Person, besides religious sentiment?
We thought it might be interesting to hear from an assortment of notable personalities throughout Vedic history—from religious leaders and heads of state to mothers of kings and renounced spiritual masters—who have plainly and publicly stated their position regarding Krishna.
Click to read the rest here at Krishna.com
Share this story your way:
This is a poem by Dravida Prabhu to Srila Prabhupada about his most pleasing mission of book distribution in honor of his Vyasa Puja day.
O Prabhupada, on this great day When you appeared, just like a ray Of Krsna's vast effulgence bright, To give this blind world back its sight,
We thank you from the bottom of Our heart, and pray with deepest love That we may serve your lotus feet In every circumstance we meet.
As years go by and books go out, We see what life is all about: To serve your mission, and our Lord's, By spreading wide your sacred words.
As well you want us all to strive To let those words direct our lives. This safest path will lead us Home, No more in Maya's realm to roam.
Your servant, Dravida dasa
This is a poem by Dravida Prabhu to Srila Prabhupada about his most pleasing mission of book distribution in honor of his Vyasa Puja day.
O Prabhupada, on this great day When you appeared, just like a ray Of Krsna's vast effulgence bright, To give this blind world back its sight,
We thank you from the bottom of Our heart, and pray with deepest love That we may serve your lotus feet In every circumstance we meet.
As years go by and books go out, We see what life is all about: To serve your mission, and our Lord's, By spreading wide your sacred words.
As well you want us all to strive To let those words direct our lives. This safest path will lead us Home, No more in Maya's realm to roam.
Your servant, Dravida dasa
Go on preaching with vigorous enthusiasm and increase your program for bringing new men to live in Krsna Consciousness. You yourself must be ideal in following the rules and regulations, rising early, and restricting eating and sleeping. The less a person is concerned with material enjoyment such as eating, sex and sleeping, the more he is spiritually advanced. If the "devotee'' himself lives like a hog or dog how can he preach?
>>> Ref. VedaBase => Letter to: Danavir -- Bhuvanesvara 26 January, 1977
As stated in the Bhagavad-gita, a person who is actually a brahmana and is very learned must automatically become very gentle also.

But although Romaharsana Suta was very learned and had been given the chance to become a brahmana, he had not become gentle.

From this we can understand that one who is puffed up by material acquisitions cannot acquire the gentle behavior befitting a brahmana.

The learning of such a person is as good as a valuable jewel decorating the hood of a serpent.

Despite the valuable jewel on the hood, a serpent is still a serpent and is as fearful as an ordinary serpent.

If a person does not become meek and humble, all his studies of the Vedas and Puranas and his vast knowledge of the sastras are simply outward dress, like the costume of a theatrical artist dancing on the stage.

Krsna Book 78: The Killing of Dantavakra, Viduratha and Romaharsana
The living entity is the cause of his own suffering, but he can also be the cause of his eternal happiness. When he wants to engage in Krsna consciousness, a suitable body is offered to him by the internal potency, the spiritual energy of the Lord, and when he wants to satisfy his senses, a material body is offered. Thus it is his free choice to accept a spiritual body or a material body, but once the body is accepted he has to enjoy or suffer the consequences.

Srimad Bhagavatam 3.26.8 Purport
The question may be raised as to why the living entities have fallen by chance into different conditions of life. To answer this question, we first have to understand that there cannot be any influence of chance for the living entities; chance is for nonliving entities.

According to the Vedic literature, living entities have knowledge, and thus they are called cetana, which means "in knowledge." Their situation in different conditions of life, therefore, is not accidental. It is by their choice, because they have knowledge.

In the Bhagavad-gita the Lord says, "Give up everything and just surrender unto Me." This process of realizing the Supreme Personality of Godhead is open for everyone, but still it is the choice of the particular living entity whether to accept or reject this proposal.

In the last portion of the Bhagavad-gita, Lord Krsna very plainly says to Arjuna, "My dear Arjuna, now I have spoken everything to you. Now you may choose to accept it or not."

Similarly, the living entities who have come down to this material world have made their own choice to enjoy this material world. It is not that Krsna sent them into this world. The material world was created for the enjoyment of living entities who wanted to give up the eternal service of the Lord to become the supreme enjoyer themselves.

According to Vaisnava philosophy, when a living entity desires to gratify his senses and forgets the service of the Lord, he is given a place in the material world to act freely according to his desire, and therefore he creates a condition of life in which he either enjoys or suffers.

We should definitely know that both the Lord and the living entities are eternally cognizant. There is no birth and death for either the Lord or the living entities. When creation takes place, this does not mean that the living entities are created.

The Lord creates the material world to give the conditioned souls a chance to elevate themselves to the higher platform of Krsna consciousness. If a conditioned soul does not take advantage of this opportunity, after the dissolution of this material world he enters into the body of Narayana and remains there in deep sleep until the time of another creation.

Krsna Book 87: Prayers by the Personified Vedas
This is an excerpt from the Hari Bhakti Vilasa: Sri Janmastami Vrata Fifteenth Vilasa, Volume Two beginning with text 249
Sri Krishna said: O Yudhishthira, after I had killed the demon Kamsa, Devaki embraced Me, placed Me on her lap, and wept.  When the wrestling was over she stood up in the grandstand. The Kukuras and Andhakas praised her.  Her affectionate kinsmen and their wives surrounded her. Vasudeva came, embraced me, said, "Son! Son!" and wept with a father's love.  His eyes filled with tears, he embraced Balarama and Me. In a choked voice he said, "Today my birth has born fruit. Today my life is lived well. Now I have met my sons, the two glories of the Yadu dynasty." O king, seeing My parents' happiness, everyone else became happy. Bowing before Me, everyone spoke these words: "Today we are happy. Today Krishna is born. Today the demon Kamsa has fallen in a wrestling match.  O Lord Krishna, please glance at the people in this festival. Please give Your mercy to them and to others also.O Krishna, O Lord who removes all sufferings, please give to us the day when Devaki gave birth to You. We will celebrate a festival in Your honor. O Krishna, please be kind to Your sincere devotees." Filled with wonder to hear the people speak these words, and the hairs of his body now erect in ecstasy, Vasudeva glanced at Balarama and said:  "It should be so. Please tell the people."  O son of Pritha, then, on My father's order, I revealed the vow of Janmastami to the people of Mathura. The brahmanas, kshatriyas, vaishyas, shudras, and all others who are pious, from the age of eight years and older, should observe Janmastami. (ekadasi is followed at the same age as well.)  O people, during the monsoon season, on the ashtami of the dark fortnight (krishna-paksha, of the month of Bhadra, when the sun was in Leo and the moon and the star Rohini were both in Taurus, in the middle of the night I was born as the son of Vasudeva and Devaki.  This day will be known in this world as the vow of Janmastami. On this day celebrate a great festival honoring both Me and the goddess. First this festival will be celebrated in Mathura. Later it will become famous in the whole world.  Hearing of this festival, the people began to observe it. May there be peace amongst them. May they be happy. May they have good health.  This festival should be observed every year, for that is pleasing to the Lord. The scriptures also describe some offenses in its observance. 

In the Skanda Purana it is said:

Prahlada and other great kings very faithfully observe the auspicious vow of Janmastami, which is dear to Lord Krishna. Their purpose is to please Lord Vishnu
It was nice noticing Lord Sri Krishna's prediction that this festival would be celebrated all over the world.  Hare Krishna
Srimad Bhagavatam Class 6.9.52, ISKCON Chowpatty, Mumbai, 9 March 2007
Indra is probably the most desirable position in the material world because his post affords the most enjoyment.  Indra is, after all, the king of heaven.
The Hari Bhakti Vilasa describes meditation on Krishna – His shark earrings reflect His shiny cheeks; He has masses of black, curly hair; He is lying on a couch playing His flute.  The Demigods are before Krishna – in the majestic aspect of Godhead.  They offer Him prayers.  The gandharvas are present too.
In the material world, there are 8,400,000 different types of bodies based on that combination of desires.
The bulls and cows come to see Krishna.  They approach Krishna in santa rasa.  The babies, with bells on their ankles, approach Krishna along with the cowherd boys, and the elder gopis.  The gopis with half-covered faces and half-closed eyes are also trying to see Krishna.  They tremble uncontrollably, trying to suppress this trembling so the bells won't ring on their bells and ankles.
These are meditations for pujaris.
The neophyte just wants to see the Deity form of the Lord in the Temple.  We should also see Krishna in everyone's heart.
Srila Prabhupada was on Juhu Beach with Dravida Maharaja.  Looking at the ocean, he asked Maharaja, 'What do you see?'  Maharaja responded, 'Krishna.'  Prabhupada asked, 'How?  Krishna says 'I am the taste in water'.  That is how you see Krishna – through His energy'.
Sometimes you look at Radha-Gopinath and you see it's Krishna.  Don't have to analyze.  The gopis saw the black tamala tree.  Radha embraces a tamala tree and all Her friends laugh at her.  It's not that they don't see a tree, but they see Krishna (the tamala tree is black).  So they see things but they see Krishna there.
The devas are not pure unalloyed devotees.  Even in Vaikuntha – they are pure, but they are not unalloyed.  In Goloka, they are unalloyed.  The devas are devotees, but they are thinking of their desires.  Pure devotees only want Krishna's pleasure.  Caitanya Mahaprabhu came to teach that.
Indra will kill Vrtrasura with the bones of Dadici.  Vrtrasura knows this.  Indra drops his weapon.  Vrtrasura says, 'Pick up your weapon and kill me!  It is Vishnu's will that you kill me'.
The demigods fear death because they don't want to lose their position.
Do you believe in reincarnation?  Devotees: 'No.  We are going back to Godhead'  Srila Prabhupada said that Lord Caitanya is waiting for the devotees with a Sankirtan party.
Srimad Bhagavatam will bring out the particular relationship we have with Krishna.  Srimad Bhagavatam gives all the different relationships you can have with Krishna.  Devotees don't want anything.   If Lord Rama wants Hanuman to have liberation, he'll take it; if not, if it intereferes with his service to Rama, he'll reject it.
Who has come to give the essence of what Caitanya Mahaprabhu came to give?  Krishna came 5,000 years ago.  Performed pastimes.  Left instructions – sarva-dharman parityajya.  People couldn't follow this in Kali.  Krishna then came as Caitanya Mahaprabhu – with no demands, just giving.  Freely giving vraja-prema.  Mahaprabhu is our hero.
There is a prediction – that all the different sampradayas will fall under the Sankirtan mission.  Caitanya Mahaprabhu – 'And I will give them the opportunity to taste Vraja Prema- this is the Maha Mantra'.
We're eternal and we have an eternal relationship with Krishna.  But, at the same time, we come from Krishna – aham sarvasya prabhavo.  'Make an eternal change'.  By association, you can change your eternal relationship eg.  Shyamananda (was in friendship, but obtained conjugal rasa).  In association with Jiva Goswami, Narottama and Srinivas – he changed his attitude.  His guru beat him with a stick, 'Why is he crying in ecstacy hearing the pastimes of Radha and Krishna?  You don't even know what pleasure you are missing in sakhya rasa.  You're taking something lower!'  You cannot change – jivera svarupa hoya krishnera nitya dasa.
Bhaktivinoda Thakura explains that if you want material relationships, when you are realized you can even have an eternal planet – with your own family.
Satya sankalpa.  When you are pure, everything you desire becomes manifest.  If you want to be a friend of Krishna, you will take birth in a family of gopas and their association will draw that out.  Associate with nitya-siddhas eg. take birth as a gopi with gopis.  The mood has to be empowered by devotees.  From there you go to the spiritual world.
Here you can change your body.  So why not spiritually?  You can humbly serve, hear Srimad Bhagavatam.  Or you can aspire and change and develop.
In Puri they follow Shankaracharya's method of Deity worship.   Ramanujacharya was in Puri.  The Sastra says in Kali Yuga that pancaratrika is more important.  Jagannath said you should leave this place.  Woke up next day in Mayapur.  Jagannath – this is my eternal place…Mayapur.  Krishna has come as Caitanya Mahaprabhu.  He revealed Himself as Laksmi-Narayana.  Then, as Mahaprabhu.  Ramanujacharya heard Caitanya Mahaprabhu mentioned in scriptures.  'Now, You've revealed everything to me'.  He was fired-up to preach Radha-Krishna worship.  Caitanya Mahaprabhu said, 'No, no, no.  I will preach it.  You continue preaching dasya rasa to elevate your followers.  Worship Krishna in your heart.  Vraja-prema is now being made available'.
Devotees cursed Akrura for 100 years for taking Krishna.  Pastimes are performed to bring Them together, separate Them, bring Them together…and so on…
Krishna only leaves Vrindavan to satisfy the living entities desire.  The unalloyed devotee – never wants to take Krishna out of Vrindavan.  So does not worship Laksmi-Narayana or Sita Rama.
Jagannatha Ratha Yatra.  Krishhna.  The only reason I'm in Dwaraka and Mathura is to satisfy the desires of the Yadus.  For their pleasure.  But my heart is in Vrindavan.  My pleasure is in Vrindavan.
Filed under:
Uncategorized
Tagged:
dasya rasa
,
indra and vritrasura
,
ISKCON Chowpatty
,
jananivas prabhu
,
krishna never leaves vrindavan
,
lord jagannath
,
Lord Vishnu
,
madhurya rasa
,
meditation on Krishna
,
postaweek2011
,
santa rasa
BBT Africa has come out with a two-page newsletter telling of new books and current projects. You can download the newsletter and see what's going on.
Opportunities and surrender. It seems to be the theme for this Summer of 2011. Opportunities to travel, to meet new people, to explore opportunities and most importantly to see the lesson in every situation.

That's become my definition of surrender- to see the lesson I need to learn in every circumstance I find myself in. What can I learn from this? What is Krsna trying to teach me? What unwanted qualities are holding me back from allowing me to embrace Krsna's plan for me?

Although it's so easy to compare and bemoan that Krsna may "appear" to be more merciful to others, it's actually the coward's way out. It's another ploy on the part of my fickle mind to shift responsibility and play the blame game. But what's the use?

Instead of feeling a sense of satisfaction, I feel a loss of control and instead of exercising the free will that Krsna has given me, I act like an ungrateful fool by trying to toss it back into His face.

I forget I have a choice. That free will can be spent in understanding that in spite of the choices I make, Krsna is so merciful that He is trying to take me back to Him. Whatever lessons, whatever successes and whatever failures, He is beside me. He is the one person who will never give up on me and will always be there to encourage me.

Little by little, I get glimpses of that encouragement when I step back and take stalk of what Krsna is trying to teach me. Although at times it can be exhausting, and definitely battering to my false ego, there is also a refreshing sense of freedom.

That freedom frees me from the false illusions that I have about myself and in turn presents opportunities that may have never come otherwise. It makes complete sense doesn't it? Only when we let go of those things that are holding us back can we be open to whatever will help us to move forward.

Although completely logical, it can also be hard to apply practically. That is why I'm so grateful to all my mentors, friends, parents and well-wishers who act as my role models in always seeking to find Krsna in all aspects of their lives. Thank you for giving me the inspiration and encouragement to follow in your footsteps.

Filed under:
Jokes
On Friday Sept. 16th beginning at 6:00 PM thru Sunday Sept. 18th. 2:00 PM
There is an inner space within the heart, similar to the space that surrounds us. In this internal chamber you'll find a refreshing lake of love and a region in which the holy names of God are constantly vibrated. The focal point is the Supreme Lord with a charisma that pervades and enlivens everything. Whoever finds this space will be free of all illusory desires, since he has achieved the Supreme.
The goal of the retreat is to …bring the participants to a level where they can experience themselves as eternal spiritual souls, and thus lose all fears and anxieties of ordinary life. We will learn many new perspectives and practical skills. When we leave the retreat, we hope to take with us these experiences and skills which will ensure that we can maintain the level we have attained.
Registration: Onsite.
Retreat Schedule:
Begins Friday at 6:00 PM
Ends Sunday at 2:00 PM with a sumptuous Sunday Feast.
Retreat Fee: $61. Includes all meals during the retreat dates.
Does not include accommodation or transportation.
Accommodations: Call ahead early to guarantee a reservation at the Palace Lodge 304-­843-­1600 ext. 111.
Transportation: Airport pickup $45 one way-can be shared. Nearest airport is Pittsburgh, PA (PIT).
Greyhound station pickups from Wheeling are also available.
For more information
Phone: 304-­843-­1600 ext. 149
Email: jaya.krsna.sns@pamho.net
Website: www.newvrindaban.com
And what kind of relationship is there between Krsna's eternal associates in Vraja.
A few months passed, and Arjuna did not return. Maharaja Yudhisthira then began to observe some inauspicious omens, which were fearful in themselves. SB 1.14.2 Maharaja Yudhisthira didn't need to be told of Krishna's departure nor that of his entourage the observance of society and it's breakdown was enough to raise his suspicion for all [...]
Please share your realisations with other devotees from around the world...simply send me an introduction email and I will be happy to make you a member:

rasa108@gmail.com

ys

Rasa Rasika dasa
Facebook is reporting News that the Indonesian BBT have just published the first volume of the 5th Canto of Srimad Bhagavatam.
All glories to their service.
Click here to see the Facebook page
Share this story your way:
Kirtan by HG Ajamil Prabhu – Pandav Sena 2011
Hare Krishna Friends,
Its Spring time again, We are taking part in the Street Parade in the upcoming Spring into Corrimal – Sunday, 11th September 2011– Time: 9:00am. Place Corrimal CBD.
I will be taking Their Lordship Gaura Nitai in the Palanquin.
Please do come and participate in this Street Parade.
Please forward this to your friends.
Dear Sir/Madam,
The annual "Spring into Corrimal" Festival is celebrating another year, and this year's event will be held on Sunday, 11 September 2011 in Corrimal CBD.
"Spring into Corrimal" is a festival which includes markets and stalls, exhibitions, showcases, live performances and activities, plus plenty of entertainment for all the family, and we are hoping you'll take part in the very important start to the day… The Grand Parade!
This event is the largest one-day festival in the Illawarra, attracting crowds from all over the region as well as areas all across New South Wales. "Spring into Corrimal" is an opportunity to celebrate and bring Gaura Nitai into the community in a friendly and inviting atmosphere.
See photos from last year, at our website: www.springintocorrimal.com.au
Your humble servant
Ananda
Share this story your way:
Bhajahari das: This year, Saturday, September 10th, we will celebrate Srila Prabhupada's first visit to London in 1969 by holding a Maha-Harinam along Oxford Street
Once again, we invite you to the grandest event on our festivals' calendar: Sri Krsna Janmastami, the appearance day of the Supreme Personality of Godhead.
Monday 22nd August is the day to remember!

Click here to travel to the ISKCON Melbourne website
Share this story your way:
Time
20 August · 17:00 – 19:00
Location: Sherwood Scout Hall
14 Young Street
Graceville, Brisbane
Program:
5 – 5.30pm Kirtan
5.30 – 6pm Class
6 – 7pm Abhisheka / Prasadam
Click here if you can help out
Click here to see a map to the door
Seventeen Mile Rocks Celebration
Share this story your way:
Srila Narottama Dasa Thakura prays:
"When my mind is completely purified, being freed from material anxieties and desires, then I shall be able to understand Vrndavana and the conjugal love of Radha and Krsna, and then my spiritual life will be successful."
(Lalasamayi Prarthana)
Let us also pray: may the daily darsana of Sri Sri Radha and Krsna gradually purify our mind and free us from material anxieties and desires.
Sri Krishna Janmastami
Monday, 22nd August (Fasting till midnight)
Venue: Hare Krishna Temple (1 Quick St, Ainslie)
Time: 6.00 pm – midnight
Program: Abhisekam, Drama, Dance, Bhajan, Arati,
Kirtan, Reading, Midnight Feast Prasadam
Sponsorship Opportunity
Pandal (Tent) $3275
Flowers for altar decoration $651
Flower Dress for Deities $451
Bhoga (Feast Prasadam $501
Abhisekam Paraphernalia $216
All donations over $2 are tax deductible.
Click here to visit the Canberra Hare Krishna Website
Share this story your way:
Sri Krishna Janmastami Utsav 2011 on 22nd August
Share this story your way:
Sri Krishna Janmastami Gold Coast
20 August · 6:00pm – 9:00pm
Bhakti Centre Surfers Paradise 1st floor 3070 Gold Coast Hwy .
Hare Krishna
Jamal Salter
Click here to check out the website
Hare Krishna
Please join us to joyously celebrate Lord Krishna's birthday,
Jamashtami next week at the Sri Sri Radha Gopinath ISKCON Mandir,
180 Falcon Street, North Sydney, NSW.
The 40th Jamashtami and Srila Prabhupada Vyasa Puja celebration in
Australia by ISKCON is a 3 day event (Sunday, August 21st – Tuesday
August 23rd) and includes the following:-
SUNDAY, August 21st
- Non-stop soul uplifting Kirtans from 10am-10pm on Sunday
- Traditional dance performances for the pleasure of Sri Sri Radha Gopinath
- A drama performed on Krishna's dealings with his devotee friend Sudama
- Gift stalls exhibiting oil paintings, Indian garments,
devotional paraphernalia and much much more!!
MONDAY, August 22nd
- Kirtan in the temple from 4:30pm-MIdnight
- Arati at 7pm
- Abhishek at 7:30
- Gift Opening 10 – 11pm
- Maha Arati at MIDNIGHT
- MAHA Feast after the Arati
TUESDAY, August 23rd
- Kirtan in the temple from 9am-12:30 pm inclusive of
Kirtan, Offerings to Srila Prabhupada by disciples,
Guru Puja and Feast
How YOU can help
Volunteers needed to help in kitchen, decoration and security.
If you wish to help,please call
NITIN at 0407 135 952
Please help the temple financially by buying some of our
amazing Jamashtami gifts.
For more details contact
Govinda Hari at 0423 666 911 or
Shubh Krsna at 0410 734 229
180 Falcon Street, North Sydney NSW 2060. Australia. Phone: (02)9959 4558
Click here to visit the Sydney ISKCON website
Click here to visit the Sydney ISKCON Newsletter
Share this story your way:
More Recent Articles
---
Click here to safely unsubscribe from "Planet ISKCON." Click here to view mailing archives, here to change your preferences, or here to subscribe

---
---
Unsubscribe from all current and future newsletters
powered by
FeedBlitz
---
Your requested content delivery powered by FeedBlitz, LLC, 9 Thoreau Way, Sudbury, MA 01776, USA. +1.978.776.9498
TABLA - FUENTES - FONTS
SOUV2
Balaram
ScaGoudy
FOLIO 4.2
Biblica Font

Disculpen las Molestias
Planet ISKCON - 2010
·
Planet ISKCON - 2011