PLANET ISKCON



Here are the latest updates for you
If you are looking for a great time On October 10th, from 3PM to 8PM, get down to the CWA hall at 169 Griffith Street, Coolangatta for the Sunday Love feast.
You are bound to have a great time. There'll be FREE vegetarian food and a guest speaker. Hold on to your hats because the "Bhajan Babas" will be cranking out the livest Kirtan music you ever heard.
MUSIC – FOOD – and FREE ENTRY. What are you waiting for? tell your friends and bring them along, it will be so cool and you will not regret it.
Click here to check out the Facebook page
Share this story your way:
Srimad Bhagavatam 11.25.13 - Give Krsna to be saved from illusion.

6 October 2010--While on parikrama today at the Sri Sri Radha Damodar temple in Vrindavana a monkey stole the glasses from Mr. Joshi, one of the members our of party. The monkey was so bold that he stole them from Mr. Joshi while he was wearing them. Sometimes the monkeys will accept bribes in the form of bananas or other foodstuffs to return the stolen...
One late Friday afternoon we received a call from Reverend Ntombe, the leader of one of the Methodist churches in Pretoria. He said, "I was told you are from a society that is giving books to libraries. Could you donate some books for our church library?" The reverend went on to explain that he was starting a library for his church's congregation and wanted as many quality books as possible. That sounded like a really nice thing for a religious leader to do.
He explained that a member of his congregation is a librarian in one of the community libraries where we had earlier donated books, and that he had gotten our number from her. That was truly inspiring to hear: in her own way this librarian was helping Srila Prabhupada's book distribution. Hari Bol!
But still we had some doubts: Had the reverend seen the books? Did he know that we were Hare Krishnas? We knew that usually Christians are not inclined to take our books, what to speak of a reverend?!
Sensing our concern, he assured us: ñI want my congregation to learn about all religions -- Islam, Judaism, Hinduism, etc. All paths lead to the same God. The only difference is that we Christians believe that Jesus is the only way, while other religions have their own path."
We took the opportunity to present a brief summary of Vaisnavism, explaining that the books are based on the Vedic teachings from India, which are thousands of years old, and that they had been translated into English by A.C. Bhaktivedanta Swami Prabhupada, and that they encompass the essence of the teachings of all paths D namely, love of Godhead. His enthusiasm remained intact, and so, thinking that this must be Srila Prabhupada's arrangement, we decided to go for it.
We arranged a time and place to meet the reverend near his church. He was quite warm and welcoming, and when we handed him the Medium Set of books -- the /Bhagavad-gita/, Krsna Book, Science of Self-Realization, and ten to fifteen small books -- he smiled gratefully and said, "Hare Krishna. I am grateful for these books. They will benefit our congregation, and I will also read them."
A week later we called the reverend to follow up. He said that though he hadnÍt had a chance to read the books yet, they were being catalogued and would soon be put on the library shelves. His last words were "If you have more such books, please bring them." Srila Prabhupada Ki Jaya!
Your servants, Bhakta Hemant & Bhaktin Aditi ISKCON Pretoria, South Africa
Vijaya (das) HDG (USA) wrote: > > Hari bol Dravida Prabhu, could you please edit this for me. > Your servant, Vijaya das > > This is a rather long one that doesn't have to be soo long maybe you could > shorten is some. > > Reverend Ntombe of the Methodist Church wants Srila Prabhupada's books > > > One late Friday afternoon we received a call from a polite gentleman who > introduced himself as Reverend Ntombe of the Methodist Church (in > Mamelodi, > Pretoria). We was quite surprised, why would a Reverend want to speak > to us. > He then said, "I was told that you are from a society which is giving > books > to libraries, I would like to ask if you could donate some books for our > Church library!" The Reverend went on to explain that he is starting a > library for his Church's congregation and his desire is to house as many > quality books as possible within the library, so that his congregation can > learn and benefit from the knowledge. That sounded like a really nice > thing > for a religious leader to do. > > He explained that a member of his congregation is a librarian, in one > of the > Community Libraries in the townships and he got our number from her. That > was truly inspiring to hear - in her own way this librarian was > assisting in > Srila Prabhupada's book distribution, Hari Bol! But still we had some > doubts: Has he seen these books and is he aware that we are Hare Krishna > devotees? Usually Christians are not inclined to take books; what to speak > of a Reverend of a Church?! So why would he be interested in Srila > Prabhupada's books, this was a pleasing curiosity. > > Sensing our concern the Reverend assured us by saying: I want my > congregation to have knowledge of everything, even other religions > like Islam, Jewish religion and all others. He then went on to explain his > philosophy: "all paths lead to the same God, the only difference is > that we > Christians beleive that Jesus is the only way while other religions have > their own path". We took the opportunity to presented a brief summary > of Vaisnavism and explained that these books are based on the Vedic > teaching > from India which is thousands of years old, translated into English by > A.C. > Bhaktivedanta Swami Prabhupada, and encompass the essence of the Spiritual > teachings of all paths - *Love of Godhead*...his enthusiasm still seemed > intact and so thinking that this must be the arrangement of Srila > Prabhupada > we decided to go for it. > > We arranged a time and place to meet the Reverend near his church. > He was quite warm and welcoming and when we handed him the Medium Set of > Srila Prabhupada's books he smiled gratefully and said "Hare Krishna". > So he > did know of the Hare Krishnas. He explained that he had heard about the > movement, but did not know much about the philosophy. We were amazed > when he > said, "I am grateful that you are giving us these books, they will benefit > the congregation and I will also read them to learn more". > > A week later we called the Reverend to follow up and see if he had a > chance > to read the books and what his opinion was. He mentioned that he did > not get > a chance to read the books, but they were being catalogued and will be put > up in the Church library very soon - HARI BOL. > > His last words were "if you have more such books, please also bring > them, we > would like more of these books". Srila Prabhupada ki Jai. > > Your Servants > Bhakta Hemant & Bhaktin Aditi > ISKCON Pretoria, South Africa. > (Text D:3623110) ------------------------------------------- > > ------- End of Forwarded Message ------ > (Text D:3651334) -------------------------------------------
------- End of Forwarded Message ------
Length: 8:40
In this SB lecture from Alachua, Mayamaya dasi discuss's the Japa Retreat in very interesting reflections and realisations from the experience.




Here are some photos of Maharaja's photos so far:

- Sunday Bhakti Vrksa slideshow
- Sunday Feast Program slideshow

The conditioned soul, engrossed in the material body, increases the pages of history by all kinds of material activities. The teachings of Lord Caitanya can help the members of human society stop such unnecessary and temporary activities and be elevated to the topmost platform of spiritual activities, which begin after liberation from material bondage.
- Srila Prabhupada
Prabhupada: ...Sannyasi should go on preaching, preaching, preaching, preaching. Practically, I was sitting here in Vrndavana, in Radha-Damodara temple. So at the age of seventy years, nobody goes out. At least from Vrndavana nobody goes at the age of seventy years. But Krsna asked me. I thought that I must go, Guru Maharaja wanted it, Caitanya Mahaprabhu... Let me try. So if I had not gone then this institution would not have developed. So this is practical. Mahatah nirvicaranam.(?) Mahatma, they must move. So when there is absolute necessity they may stay. Otherwise, they must move. Move on, move on, move on, move on, move on. No staying. That is principle. No staying. I am this old age, I cannot move... My... I... So many... Still I am traveling all over the world. I am simply interested that whatever I have done, it may not be vanquished in my absence. Let me go and encourage them. Otherwise, I have no capacity to move now. But still I am moving. Only for this purpose. Girinam grhna-cetasam.(?) So a sannyasi must move. A sannyasi must not stay anywhere more than three days... A sannyasi is forbidden to stay anywhere else, but in a temple he can stay for more than three days provided there is business. Otherwise, there is no necessity.
>>> Ref. VedaBase => Room Conversation -- September 5, 1976, Vrndavana
What would you prefer to eat? A plate full of fried larvae, cockroaches and other crunchy insect delights?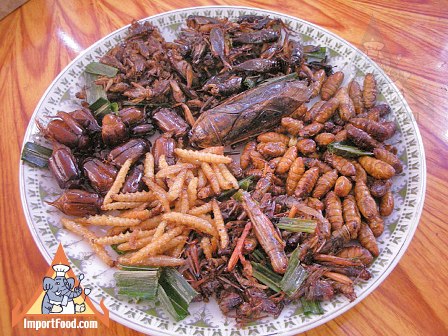 Or a plate full of Hearty Dal Soup, Vegetarian Moussaka, BBQ Asparagus with Macadamia and semi-dried Tomato Pesto, Grilled Panir Steaks in Maple Marinade with Sweet Potato Mash?
Alix Vanny recently interviewed me for Radio regarding my thoughts on a recent United Nations recommendation that we should eat less livestock and more insects.
You might have already guessed my thoughts on this. Click here, scroll down and listen to the interview. It may take a while to load, and I am the last person interviewed.
See some old photos here including one of Taru in "the Pits".
www.sdgonline.org.
3:45 A.M.
From Namamrta by A.C. Bhaktivedanta Swami Prabhupada:
"It is an offense to consider the holy name to be an ordinary pious activity:
"One who says that ten million Asvamedha sacrifices are equal to the chanting of the holy name of Lord Krishna is undoubtedly an atheist. He is sure to be punished by Yamaraja."
"In the list of the ten kinds of offenses in chanting the holy name of the Supreme Personality of Godhead, Hare Krishna, the eighth offense is that one should never consider the chanting of the holy name of Godhead equal to pious activities like giving charity to brahmanas or saintly persons, opening charitable educational institutions, distributing free foodstuffs and so on. The results of pious activities do not equal the results of chanting the holy name of Krishna.
"In other words, one who accepts the chanting of Hare Krishna to be some kind of pious activity is completely misled. Of course, it is pious; but the real fact is that Krishna and His name, being transcendental, are far above all mundane pious activity. Pious activity is on the material platform, but chanting of the holy name of Krishna is completely on the spiritual plane. Therefore, although pasandis do not understand this, pious activity can never compare to the chanting of the holy name." (Sri Caitanya-caritamrta, Adi-lila 3.79)
According to the materialistic point of view, observing a religious ceremony invokes an auspicious atmosphere for the material benefit of the entire world. Materialists therefore manufacture religious principles to live comfortably and without disturbance in executing their material activities. Since they do not believe in the existence of God, they have manufactured the idea that God is impersonal and that to have some conception of God one can imagine any form. They consider chanting the names of the demigods an auspicious activity. They think any name is all right to invoke an auspicious atmosphere in society, thus they are called pasandis—unbelievers. Chanting of Hare Krishna is meant to bring us attachment to Krishna Himself, to please Krishna and eventually to invoke our pure love for Krishna. We should chant with that in mind. Chanting shouldn't be then thinking that it's the same as charitable work in the material world and is done for bringing about temporary peaceful conditions. It has to be focused on the eternal Supreme Person. Then automatically all piety will come from chanting because Krishna Himself is all-pious.
I woke at 1:30 A.M. with a clear head and began chanting. My chanting was not very rapid, but I kept fixed on the sound vibration and steady accumulation of the rounds without much distraction. I didn't reach sixteen rounds by 3:30, but I had only reached twelve. So I will have to complete the balance. But I steadily meditated on the mantra, and that is good.
I did not chant in

ecstatic transformation

with my hairs on end

and tears from the eyes.

But at least I did

not chant thinking

it was pious activity

meant to bring temporary

benefit for the world,

such as charitable

work, free food

distribution or help

for the homeless. These

activities are good, and

there are societies

dedicated to bringing it

about.

But chanting

is for something greater,

the release of all

miseries, the liberation

of the soul from

birth and death, and

finally love of God.

Love of Krishna is the

ultimate pious activity

and I should chant

for that goal,

not some lesser

benefit for the world.
www.sdgonline.org.
One Hundred Prabhupada Poems, #51

I just read two poems in a book,
The Father by Sharon Olds

in which she tells how her father

is dying and how she felt

and how she thinks he felt.

It reminded me that Prabhupada passed away.

If I were to go back to that

it would take much effort and concentration.

I don't want to dig up my shortcomings

on such a painful subject.
I wasn't basically wrong.

I sensed the end had come

and knew we could serve you in separation.

I was sure you would stay with us

in vani, and that I'd serve you.
But I fell so short

of appropriate loving feelings.

I remember your close servants.

They get eternal credit, even if

some of them went away and left your service.

Probably they will never leave you

and will remember you when they die.
I was a numbed stone

went to my room in the guesthouse

tried to write a book on varnasrama to occupy

myself and not think what was happening.

Actually I can't recall,

don't want to. I prefer

The Gaudiya-Vaisnava philosophy that says
the pure soul goes on to nitya-lila
and his servants continue serving him.

And when each of his servants die,

it won't be so horrible or painful

because they will call to you,
and somehow they will join you.

That's the scenario and it can work

if we remain cool and pray for conviction.

Until then I want to read your books

in which you never pass away

and in which I don't falter,

your books, where Lord Krishna

creates the universes

and plays in Vrndavana with His parisads.

In those books we can go on hearing,

guru and sisya

and we don't need anything else.
www.sdgonline.org.
"When the disciple is ready,

the guru will come."

In what sense was I ready?

Not like Maharaja Pariksit, already

a great devotee and so Krishna

sent him the best devotee to

explain to him and tthrough him

to the whole world the

Srimad-Bhagavatam.


I was not ready in that

way, nor was I so

determined to see God that

He appeared in the heart

of Narada Muni and said,

"Go to Dhruva and teach him."
I was loitering on the Lower

East Side, taking drugs,

writing my autobiographic

religious dedications

to self-expression and listening to jazz,

with no girlfriend.
I wasn't eligible that Krishna should

send a guru to me but

he was an aggressor and we

lived in the same neighborhood.
Apparently I was ready.

I took to it right away.

From my scruffy consciousness,

within my lusty, confused,

youthful, despairing heart,

my covered soul was

ready to receive the Swami.
I went to him as a new

man. I gave up my

bad habits. The

chanting of Hare Krishna

found reception in my mystic

search.
Prabhupada, you came to

me, sent by Krishna although

I was unworthy. I rose to

the occasion and became

a responsible cela.
You worked the alchemy

and enlisted me in the

sankirtana army. I

changed to pure from impure.
You caught me unaware

and picked me up,

you placed me at the

Lord's lotus feet

and made me dance.
I wasn't really looking

for you, but you caught my attention.

According to the scriptures

I have to take it that

Krishna came for me

in the form of the spiritual master,

and I was sincere enough

in the core of my being

to accept the great gift.
I'm ever-grateful

you both came for me,

and I pray to always

stay an active

recipient of the mercy.
www.sdgonline.org.

I turned at random to Srimad-Bhagavatam, Canto 1, Chapter 19, verse 36:
"Otherwise [without being inspired by Lord Krishna] how is it that you have voluntarily appeared here, though you are moving incognito to the common man and are not visible to us who are on the verge of death?" Sukadeva Goswami was inspired by Lord Krishna to appear voluntarily before Maharaja Pariksit, the great devotee, just to give him the teachings of Srimad-Bhagavatam. There were other sages and gurus present suggesting different paths, but it was not conclusive who Maharaja Pariksit would listen to. When Sukadeva Goswami arrived, everyone stood up, and it was decided that (although he was only 16 years old) Sukadeva was the most qualified devotee present to teach Pariksit in his last remaining seven days. The other sages gave Sukadeva deference, and Maharaja Pariksit turned eagerly to hear from him. One can achieve the import of devotional service of the Lord by the mercy of the spiritual master and the Personality of Godhead. The spiritual master is the manifest representative of the Lord to help one achieve ultimate success.
A bona-fide guru is actually inspired by the Lord to appear before the disciple. As soon as a true representative of the Lord is met by a devotee, the devotee is assured for going back to Godhead. But this depends on the sincerity of the devotee himself. In a similar case in the Bhagavatam, Narada Muni was sent to appear before Dhruva Maharaja, who was searching for God in the forest. When the Lord finds a person who is eager to go back to Godhead, He sends His bona-fide representative. In the purport, Srila Prabhupada writes, "The conclusion is that to get the assistance and help of a bona-fide spiritual master means to receive the direct help of the Lord Himself." (Bhag. 1.19.36, purport)
It's sweet how Lord Caitanya Mahaprabhu interacts with His devotees. About 300 of them came from Bengal for the four months at Caturmasya and stayed with Him at Jagannatha-puri. The Puri devotees are always with Him. One year there was an incident where Sivananda Sena was delayed paying a toll. The whole group of Bengali devotees had to wait for him under a tree. He arranged for all their eating and accommodations, and so without him they had to simply wait. Lord Nityananda became angry and claimed that He was hungry. He cursed Sivananda Sena and said that his sons should die. Sivananda Sena's wife started weeping and wailing. When Sivananda Sena finally arrived, his wife at once told him of Lord Nityananda's curse. Sivananda Sena called her a foolish woman and said they should be glad to be cursed by Lord Nityananda. Lord Nityananda then came up to Sivananda Sena and kicked him on the leg. Who could understand the ways of Lord Nityananda? Krishna dasa Kaviraja says when Lord Nityananda is angry towards someone He is actually showing them His affection. Sivananda Sena was aware of this, and he was pleased to be kicked by Lord Nityananda. Nor did He actually cause Sivananda Sena's sons to die. But He is an avadhuta and acts in contradictory ways. One of the devotees left the party and went ahead to complain about Lord Nityananda's behavior, but when he came into Lord Caitanya's presence, he sensed that Lord Caitanya was omniscient and knew why he was upset, so he did not complain about Lord Nityananda. Lord Caitanya spoke nectarean words to His devotees when they arrived. He pointed out that they underwent great trouble to travel to see Him, and He expressed his affection to each of them. He chided Lord Nityanada for coming because He had ordered Him to stay in Nadia and preach. Each year they observe the same festivals, and kirtanas and feasting and Krishna katha. Lord Caitanya enjoyed their company in the day, but He passed His night in great difficulty fee­­ling separation from Krishna and sharing His emotions with His associates Ramananda Raya and Svarupa Damodara.
I breathe in the pastimes in an even-tempered way. May they stay in my mind, and may I speak about them to the devotees. When you dip deeply into the pastimes of Lord Caitanya in the Ganges River, you come up in Radha-Kunda in the pastimes of Radha-Krishna. The more you have qualified to relish Gauranga-lila, the more you become eligible to hear of the Divine Couple of Vraja.
Krishna is neither impersonal or unable to reciprocate the feelings of His devotees. In Bhagavad-gita (4.11) He says, "As they approach Me, I respond accordingly." He reciprocates with different devotees just as it behooves their mood in approach to Him. When He arrived in Dvaraka, he was met by dramatists, artists, singers, historians, genealogists and learned speakers, and they each gave Him their respective contributions. The Lord responded with the specific admirers according to His specific relationship with them. But the pure devotees were of one type only because they have no other object of service but the Lord. To some He bowed His head, to some He exchanged greetings, to some He shook hands, looked and smiled and gave assurances even to the lowest in rank. Only to the impersonalists, who do not recognize Him, does the Lord not reciprocate. Elderly brahmanas chanted His glories and became glorified themselves. The ladies from the respectable houses of Dvaraka went up to the roofs of the houses just to have a look at the Lord.
Within the five mellows or rasas the Lord responds differently with His devotees. One can have an eternal relationship with the Lord as a servant, friend, parent or conjugal lover, and the Lord reciprocates with each differently. But each one is absolute in their complete devotion to the Lord, and He deals with them in affection accordingly.
1967 October 7: "I have not heard for a long time from you but I am always thinking of you and your good husband. I hope you are all doing well. I am now almost cured & I wish to return as soon as possible. Please remain in Krishna consciousness fully and you will always be happy."
Prabhupada Letters :: 1967
1968 October 7: "One should first give protection to the soul, then he should take care of his particular type of faith, then material things, like this body, and anything in relation with this body, or wealth. If you can protect the soul from being fallen a victim of this material existence that is the greater service."
Prabhupada Letters :: 1968
1970 October 7: "You have left and it is like a thunderbolt. How is that? Have you also been contaminated? Please tell me frankly. I request you come to India and live with me. I shall await your reply with great anxiety."
Prabhupada Letters :: 1970
1972 October 7: "If a man loves God more than anything else, he is the perfect man. So find out yourself who is the right person and follow his footsteps, and that is the best way for understanding God. We cannot decide either from books or by philosophical speculation or by argument or logic."
Prabhupada Letters :: 1972
1972 October 7: "Krishna has provided everything sufficiently and there is no question of scarcity or poverty. Only demons and blind leaders in the name of politicians, swamis, yogis, philanthropists are misguiding the whole population and making the whole world entangled more and more in problems."
Prabhupada Letters :: 1972
1974 October 7: "I am glad you are taking the recommendation seriously. Yes, it is a serious matter. Not that I take Spiritual Master as a pet and do whatever I want. No, one must follow the order of the Spiritual Master with life and soul."
Prabhupada Letters :: 1974
1974 October 7: "Just like Srimati Kunti devi, she prayed to Krishna. That is Krishna consciousness. Not that when there is difficulty I shall forget Krishna. Whatever the material condition may be, we should just cling to Krishna's lotus feet."
Prabhupada Letters :: 1974
1974 October 7: "Now you finish your old birth with the fire of Krishna consciousness. Worship Krishna with love. If you love Krishna, you will worship Him very nicely. And if you get Krishna, then what more can you want? That is the qualification for Deity worship."
Prabhupada Letters :: 1974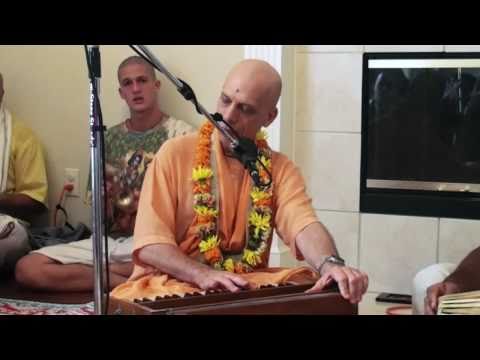 Prahladananda Swami leading a Hare Krishna bhajan at a home program.
Dallas, TX

2010-07-10
Download:
2010-07-10 - 2 - Prahladananda Swami - Hare Krishna.mp3
His Holiness Sivarama Swami Bhajana in Budapest 2


Srimad Bhagavatam 11.25.12 - Be natural. Engage the senses in Krishna's service.
To think that glorification of the holy name is an exaggera­tion or to interpret the glories of the holy name are offenses against the holy name.
From
Namamrta
by A.C. Bhaktivedanta Swami Prabhupada
More Recent Articles
---
Click here to safely unsubscribe now from "Planet ISKCON" or change your subscription or subscribe

---
---
Your requested content delivery powered by FeedBlitz, LLC, 9 Thoreau Way, Sudbury, MA 01776, USA. +1.978.776.9498
Subscriptions
TABLA - FUENTES - FONTS
SOUV2
Balaram
ScaGoudy
FOLIO 4.2
Biblica Font

Disculpen las Molestias
Planet ISKCON - 2010
·
Planet ISKCON - 2011