PLANET ISKCON


A daily broadcast of the Ultimate Self Realization Course Wednesday 14 September 2011 The Supreme Personality of Godhead, Lord Sri Krishna, and His eternal consort, Srimati Radharani are enjoying transcendental pastimes in the topmost planet of the spiritual world, Sri Goloka Vrindavan. They are beckoning us to rejoin them. (Click on photo to see a larger image.) Our Mission: To help everyone awaken their original Krishna consciousness, which is eternal, full of knowledge and full of bliss. Such a global awakening will, in one stroke, solve all the problems of the world society bringing in a new era of unprecedented peace and prosperity for all. May that day, which the world so desperately needs, come very soon. We request you to participate in this mission by reviving your dormant Krishna consciousness and assisting us in spreading this science all over the world. Dedicated with love to ISKCON Founder-Acharya: His Divine Grace A.C. Bhaktivedanta Swami Prabhupada, our beloved spiritual master, and to you, our dear readers. For Transcendental Association Connect With Other Members of this Course. Join this Conference: http://groups.google.com/group/sda_students Today's Thought: The Ultimate Perfection of Existence Uploaded from Sofia, Bulgaria There is no reason to suffer in a drab, boring material existence when you can be swimming in an ocean of love at every minute. The love of which I speak is Krishna prema, pure love of God, because that love is perfect in that it does not demand anything in return. When you give your love to Krishna or God that love is automatically distributed to every living being throughout the entire existence and you experience an indescribably wonderful feeling of happiness that goes on increasing unlimitedly for all of eternity. There is nothing better than this. This is the ultimate perfection of existence. Sankarshan Das Adhikari Revealing the Ultimate Perfection of Existence Krishna Yoga Center--Burgas, Bulgaria 11 September 2011 http://www.backtohome.com/images/2011-Fall/Burgas_Lecture2.JPG Answers by Citing the Vedic Version: Question: How Allah Consciousness is Krishna Consciousness? Dear Gurudeva, Regarding Allah consciousness, the Muslims are not strict vegetarians in accordance with Lord Krishna's desire. Many times, Gurudeva, you have said that Allah consciousness is acceptable as Krishna consciousness. But they sacrifice cows for their meal, and this is not a sin in their religion. So for sure Allah consciousness cannot be the same as Krishna or God consciousness. I'm very confused how you can accept Allah consciousness to be the same as Krishna consciousness. Madhavan Answer: Killing Innocent Cows is Blood-Lust Consciousness It is confirmed by His Divine Grace Srila Prabhupada that Allah is a name for God. So in that sense whether we say Allah consciousness or Krishna consciousness we are talking about the same subject matter. However, if one commits sinful activities such as killing innocent cows and other animals, that is not true Allah consciousness or Krishna consciousness. That is blood-lust consciousness. We are requesting therefore that our Muslim brothers worship Allah or the Supreme Lord by offering Him only vegetarian foods We have no objection to the name Allah. But we strongly object to sinful activities being conducted in the name of any religion. When Lord Caitanya was discussing the Koran with the Muslim magistrate, Chand Kazi, He said, What kind of religion is this in which you kill your mother and father, the cow and the bull?. Chand Kazi accepted Lord Caitanya's argument and adopted Krishna bhakti by surrendering himself unto Lord Caitanya. Sankarshan Das Adhikari Transcendental Resources: Receive the Special Blessings of Krishna Now you too can render the greatest service to the suffering humanity and attract the all-auspicious blessings of Lord Sri Krishna upon yourself and your family by assisting our mission. Lectures and Kirtans in Audio and Video: Link to High Definition Videos Link to Over 1,000 Lecture Audios Lecture-Travel Schedule for 2011 http://www.ultimateselfrealization.com/schedule Have Questions or Need Further Guidance? Check out the resources at: http://www.ultimateselfrealization.com or write Sankarshan Das Adhikari at: sda@backtohome.com Get your copy today of the world's greatest self-realization guide book, Bhagavad-gita As It Is available at:http://www.ultimateselfrealization.com/store Know someone who could benefit from this? Forward it to them. Searchable archives of all of course material: http://www.sda-archives.com Receive Thought for the Day as an RSS feed: http://www.backtohome.com/rss.htm Unsubscribe or change your email address Follow us on Twitter: http://twitter.com/Daily_Thought Thought for the Day on Facebook: http://www.facebook.com/Ultimate.Self.Realization Copyright 2005-2011 by Ultimate Self Realization.Com Distribution of this material is encouraged. Simply we request you to acknowledge where it is coming from with a link to our sign up page: http://www.backtohome.com Our records indicate that at requested to be enrolled to receive e-mails from the Ultimate Self Realization Course at: This request was made on: From the following IP address:
BY MATHURA LILESVARI DEVI DASI
We are happy that the glories of the Holy Names did not stop spreading last Saturday at Bukit Bintang but is continuing to spread well and wide even to all those who could not make it.
Iskcon members dressed in colourful traditional Indian costumes spread the message of peace.
— Pictures by Nik Hariff Hassan



KUALA LUMPUR: About 70 devotees of the Hare Krishna movement took part in a parade to campaign against drug abuse and to promote racial harmony here recently.
The devotees of The International Society for Krishna Consciousness (Iskcon) of Malaysia sang and danced in the streets of Bukit Bintang.

The event called Malaysians Against Drug Abuse saw the group distributing packets of snacks and anti-drug abuse flyers from the Malaysian Anti-Drug Agency (Pemadam) to passers-by. Similar events are being organised worldwide.

Members of the organisation were dressed in colourful traditional Indian costumes spreading the message of peace.
The event was held in collaboration with Pemadam, and was well received by the locals and tourists.

Iskcon regional secretary Simheswara Das led the two-hour procession.
Devotees of the Hare Krishna movement in a parade against drug abuse and to promote racial harmony in Bukit Bintang

Read more: Global movement parades for peace http://www.nst.com.my/nst/articles/10khh/Article/#ixzz1Xt7w00ay
Simheswara said: "Iskcon in Malaysia would like to work with the government against all vices. And we salute the 1Malaysia concept." 

Iskcon is a non-profitable society. It is better known as the Hare Krishna movement and was founded in 1966 in New York City by A.C. Bhaktivedanta Swami Prabhupada. 

The movement has been in Malaysia for 30 years.

The distinctive features of the movement and its culture comes from the Gaudiya Vaishnavaism tradition of ancient India. 

Iskcon promotes a healthy lifestyle. 

Its members believe a peaceful way of life can be achieved if the soul is rid of vices. 

It has a more than 400 centres worldwide, including 60 farm communities which are self-sufficient, about 50 schools, and 90 restaurants.

Here is today's darshan.

Srimad Bhagavatam 1.2.21 - The fourteen stages of development in bhakti as described in Srila Vishvanatha Cakravarti Thakor's compilation named Madhurya Kadambini.
Sri Krsna went to Mathurapuri in order to destroy the demons. However, due to being captivated by the love of Radha, He later returned. Therefore She is known as Hara.
One needs only to watch television for but a few minutes to get an idea of the modern culture's mentality. From lusty sitcoms and rampant commercials with close-ups of perspiring fountain drinks along-side mile-high hamburgers, to images of war and death occurring on the other side of the globe with side bars depicting rising gas prices- modern day television in essence promotes a consciousness largely based on eating, mating, and fearing.
Yet, where's the novelty in such activities? Modern television makes us out to be merely "polished" animals- acting from lower urges in order to satisfy our desire to gratify our senses, so much so that we will even defend and fight to the death to protect this desire. But is this where true happiness lies? It is clear that more material pleasure, and the quest therein, only begets more anxiety. For if one desires to enjoy the objects of the senses they must work even harder in order to obtain such a transitory level of happiness gained through external means. This is quite the opposite from an intelligent plan.
Real intelligence lies in finding out how to transcend the anxieties of modern life, which are all too apparent and are epitomized on modern television. We must inquire into the nature of the self because what and with whom we identify governs our actions and subsequently our happiness in life. We must be careful not to confuse our identity with that which is observed- namely the body and all of the activities it takes part in- with the observer; the individual spirit soul, which is eternal.
Identification with matter, as has been pointed out can only lead to increasing dissatisfaction due to its ephemeral nature, whereas, knowing oneself to be a spirit soul- an eternal part and parcels of the Supreme Source gives one the proper basis upon which to act and relate to others in the world in an intelligent, selfless way.
The following is taken from SrilaPrabhupada's commentary on the eleventh mantra in the book called Sri Isopanisad.
The miseries of this material world serve to indirectly remind us of our incompatibility with dead matter. Intelligent living entities generally take note of these reminders and engage themselves in the culture of transcendental knowledge.
Since the creation of the physical world, everyone has been yearning to attain a permanent life, but the laws of nature are so cruel that no one has been able to avoid the hand of death. No one wants to die, nor does anyone want to become old or diseased. The law of nature, however, does not allow anyone immunity from old age, disease or death. Nor has the advancement of material knowledge solved these problems. Material science can discover the nuclear bomb to accelerate the process of death, but it cannot discover anything that can protect people from the cruel hands of old age, disease, and death.
Sri Isopanisad instructs us not to make one-sided attempts to win the struggle for existence. Everyone is struggling hard for existence, but the laws of material nature are so hard and fast that they do not allow anyone to surpass them. In order to attain a permanent life, one must be prepared for a spiritual journey.
The process by which one goes back to Godhead is a peculiar branch of knowledge. To become happy in this life and attain a permanent blissful life after leaving this material body, one must study sacred literature, in this case Sri Isopanisad, and obtain transcendental knowledge. The conditioned living being has forgotten his eternal relationship with God and has mistakenly accepted the temporary place of his birth as all in all. We have kindly been delivered the sacred scriptures in India and other scriptures in other countries to remind the forgetful human being that his home is not here in this material world. The living being is a spiritual entity, and he can be happy only by returning to his spiritual home.
Birth and death apply to the outward covering of the spirit soul, the body. Death is compared to the taking off and birth to the putting on of outward garments.
The miseries of this material world serve to indirectly remind us of our incompatibility with dead matter. Intelligent living entities generally take note of these reminders and engage themselves in the culture of transcendental knowledge. Human life is the best opportunity for the culture of spiritual knowledge, and a human being who does not take advantage of this opportunity is unfortunate.
The path of advancement of material knowledge for sense gratification, is the path of repeated birth and death. As he exists spiritually, the living entity has no birth or death. Birth and death apply to the outward covering of the spirit soul, the body. Death is compared to the taking off and birth to the putting on of outward garments. Foolish human beings who are grossly absorbed in the culture of nescience do not mind this cruel process. Enamored with the beauty of the illusory energy, they undergo the same miseries repeatedly and do not learn any lessons from the laws of nature.
Therefore the culture of transcendental knowledge is essential for the human being. Sense enjoyment in the diseased material condition must be restricted as far as possible. Unrestricted sense enjoyment in this bodily condition is the path of ignorance and death. The living entities are not without spiritual senses; every living being in his original, spiritual form has all the senses, which are now materially manifested, being covered by the material body and mind.
The activities of the material senses are perverted reflections of the activities of the original, spiritual senses. In his diseased condition, the spirit soul engages in material activities under the material covering. Real sense enjoyment is possible only when the disease of materialism is removed. In our pure spiritual form, free from all material contamination, real enjoyment of the senses is possible. A patient must regain his health before he can truly enjoy sense pleasure again. Thus the aim of human life should not be to enjoy perverted sense enjoyment but to cure the material disease. Aggravation of the material disease is no sign of knowledge, but a sign of ignorance. For good health, a person should not increase his fever from 105 degrees to 107 degrees but should reduce his temperature to the normal 98.6. That should be the aim of human life. The modern trend of material civilization is to increase the temperature of the feverish material condition. Meanwhile, the foolish politicians are crying that at any moment the world may go to hell. That is the result of the advancement of material knowledge and the neglect of the most important part of life, the culture of spiritual knowledge. Sri Isopanisad herein warns that we must not follow this dangerous path leading to death. On the contrary, we must develop the culture of spiritual knowledge so that we may become completely free from the cruel hands of death.
The modern trend of material civilization is to increase the temperature of the feverish material condition. Meanwhile, the foolish politicians are crying that at any moment the world may go to hell.
This does not mean that all activities for the maintenance of the body should be stopped. There is no question of stopping activities, just as there is no question of wiping out one's temperature altogether when trying to recover from a disease. "To make the best use of a bad bargain" is the appropriate expression. The culture of spiritual knowledge necessitates the help of the body and mind; therefore maintenance of the body and mind is required if we are to reach our goal. The normal temperature should be maintained at 98.6 degrees, and the great sages and saints of India have attempted to do this by a balanced program of spiritual and material knowledge. They never allow the misuse of human intelligence for diseased sense gratification. Human activities diseased by a tendency toward sense gratification have been regulated in the Vedas. This system employs religion, economic development, sense gratification, and spiritual liberation, but at the present moment people have no interest in religion or spirituality. They have only one aim in life- sense gratification- and in order to achieve this end they make plans for economic development. Misguided pople think that religion should be maintained if, or, because it contributes to economic development, which is required for sense gratification. Thus, in order to guarantee further sense gratification after death, in heaven, there is some system of religious observance. But this is not the purpose of religion. The path of religion is actually meant for self-realization, and economic development is required just to maintain the body in a sound, healthy condition. One should lead a healthy life with a sound mind just to realize true knowledge, which is the aim of human life. This life is not meant for working hard like an ass or for culturing ignorance for sense gratification.
First day at Crossfit King. I got a six weeks for $20 deal from Grabone.com.au.
Warmup
Deadlift technique coaching
5 sets of 5 reps - 30kg
Cindy workout
5 sets for time of:
5x pullups
10x pushups
15x air squats
Time: 5m14s
...there are so many processes how to get out of this material world, but Prahlada Maharaja and all the devotees, especially Caitanya Mahaprabhu, He has recommended that "Chant Hare Krsna."
harer nama harer nama harer nama iva kevalam kalau nasty eva nasty eva nasty eva gatir anyatha [Cc. Adi 17.21]
And that, you benefit. Very easy, you take it and chant it sincerely, without any offense. You haven't got to follow these, what is called, mauna-vrata-sruta-tapo-'dhyayana [SB 7.9.46]. It is not possible nowadays to be a very learned scholar in Vedic literature or to remain silent or to take some vow, then to remain in solitary place, then japa, samadhi, to remain in trance as the yogis try. They are impossible. They are recommended processes for getting liberation, but in the Kali-yuga it is not possible. So we are so fallen, it is not possible to execute all these processes. Therefore Caitanya Mahaprabhu is the mercy incarnation, that "These people, so fallen, they cannot do anything." So He has recommended a simple thing, kalau nasty eva nasty eva nasty eva gatir anyatha. Chant (devotees chant simultaneously) Hare Krsna, Hare Krsna, Krsna Krsna, Hare Hare/ Hare Rama, Hare Rama, Rama Rama, Hare Hare.
>>> Ref. VedaBase => Srimad-Bhagavatam 7.9.46 -- Vrndavana, April 1, 1976
Before the philosophical discourse at our temple every morning, we sing a celebrated song entitled "Jaya Radha Madhava." Written by a legendry God-intoxicated saint, it depicts the extraordinary activities, loving relationships, and serene landscape of the spiritual world. Today, the significance of that divine meditation struck me. Every morning we have an opportunity to realign ourselves. We reestablish our ultimate goal, our cherished aspiration. We remember why we are doing what we are doing. In that meditation we can put life's situations in perspective - the things that agitate our mind and clutter our consciousness don't seem so important anymore. It reminds me of an upbeat spiritual mentor who used to laugh and exclaim "don't take the illusion too seriously!"

On a daily basis we are challenged in a variety of ways. Unpredictable dealings with others, the irrationality of our own 'inner voice', and the reversals of Mother Nature are all disappointments which can end up consuming our consciousness and sapping our enthusiasm. Such contemplation, however, is likened to a rocking chair. While it gives us something to do, it doesn't really get us anywhere. Instead, we should let go and move on. In the context of our treasured goal, the troubles and inconveniences fall into insignificance.

And how bad is it anyway? I try to reflect on the many gifts I have received in this life - the repeated opportunities, the kind people, the spiritual knowledge, the solid support of a community. All the ingredients for spiritual success are there, and all it requires now is determined practice. As the famous saying goes - "don't look a gift horse in the mouth!" (you can tell the age of a horse by looking at its teeth). The lesson is that when offered a wonderful gift, it would be unwise to nit-pick and find faults. Instead, one would do well to gratefully accept it with two hands and make the most of it. The sanskrit word for gratitude is "krta-jna" – literally meaning "to know what has been done for you." The ungrateful person who lacks such a vision may instead be called a great fool.
1965 September 13:
"O dear friend, in Your company I will experience great joy once again. In the early morning I will wander about the cowherd pastures and fields. Running and frolicking in the many forests of Vraja, I will roll on the ground in spiritual ecstasy. Oh when will that day be mine?

"Today that remembrance of You came to me in a very nice way. Because I have a great longing I called to You. I am Your eternal servant and therefore I desire Your association so much. O Lord Krsna, except for You there is no other means of success."
[Prayer to the Lotus Feet of Krsna]
Jalduta Diary :: 1965
1965 September 13:
"Lord Krishna has taken charge of the ship. The captain tells that they had never such calmness of the Atlantic. If Atlantic would have shown its usual face I would have died. Today I have disclosed my mind to my companion Lord Sri Krishna. There is a Bengali poem made by me today in this connection, Prayer to the Lotus Feet of Krsna."
Jaladuta Diary :: 1965
1965 September 13: "Today is the 32nd day of our journey from Calcutta. After midnight the lurching decreased and I felt relief. In the morning I cooked 'Bati-chachari.' It appeared to be delicious and I was able to take some food."
Jaladuta Diary :: 1965
The following is a great and catchy tune that reflects my current state of mind.
Unfortunately it isn't vegetarian so I beg your indulgence and please do the following: when he says "bacon" think "tofu" , when he says "gravy" think "cream cheese" and when he says eggs, maybe "bread" or … suggestions?

Any volunteers who would like to redo this in a vegetarian rendition? Please send me the link to the video when you do it. :-)
Filed under:
Cows and Environment
1969 September 13: "So far the questions raised by your father, to understand God one must be purified. In contaminated state one cannot expect to understand the Absolute Truth. Our Krishna Consciousness movement is for bringing one to purified consciousness where one can understand Krishna."
Prabhupada Letters :: 1969
1970 September 13: "Regarding the four Sannyasis, I am requesting them to not preach anything which may hamper the growth of our Society. Please try to help these boys and advise them on my behalf not to waste time in such fruitless endeavor."
Prabhupada Letters :: 1970
1972 September 13: "Now go on teaching in this school and distributing our literatures and try to recruit some local men. For relying upon devotees from outside to come that is not very practical business. It is better to recruit some local men and train them to do the work."
Prabhupada Letters :: 1972
1973 September 13: "When I came to Vrindaban for short periods I would stay at Radha Damodara Temple. I was staying in two rooms upstairs then one of the Goswamis asked me if I would like to stay in the two rooms below. The rooms were given to me on verbal lease for life."
Prabhupada Letters :: 1973
1975 September 13: "Continue as you are doing and by the mercy of Caitanya Mahaprabhu you will be very successful. It is by His order that we are carrying this message all over the world. Now I am coming there and shall see you then."
Prabhupada Letters :: 1975
1974 September 12: "The women are doing nicely, so why are they being changed from the pujari to Sankirtana? These are internal things, and you should not interfere. I do not approve. It should be the choice of the President."
Prabhupada Letters :: 1974
BY FFL KUALA LUMPUR
Its been more than a decade since SJMKL last held a Food & Fun Fair and this time we promise a carnival grander than ever!

Highlights of the event are:

1. Variety of vegetarian delights to tickle your taste buds
2. Magic show
3. Clown with balloons
4. Pony rides
5. Variety of games for children and adults
6. Sand art
7. Stage program



Proceeds of the carnival will be channelled to FFL KL which is currently distributing more than 3,000 plates of prasadam weekly in eleven different locations in Klang Valley. As such we humbly seek your support in helping us fulfill one of Srila Prabhupada's wish which is "No one within ten miles of a temple should go hungry..."


Coupon booklets at the cost of RM20 each are available for purchase at SJMKL. Please contact HG Srivas Caitanya das at 012- 6980 703 or Bhakta Siva Kumar at 016-3050 918.


We thank devotees for showing their support by distributing coupons on behalf of FFL KL. Kindly handover the laxmi to HG Srivas Caitanya or Bhakta Siva Kumar by Sunday, 11th September at SJMKL. We are also pleased to announce that we have sponsors to 3 different orphanages and we seek volunteers to help guide these youngsters at our carnival.


Please come with your family and friends and experience unlimited fun before the deities of Sri Sri Jagannath, Subhadra Maiya and Baladev! 

New e-book: "India & Beyond: Plane Reading for Part-time Babajis"
by Braja Sorensen
Light reading for yogis, bhaktas, babajis, and wanna-be's while traveling to India—and beyond. From the beginnings of my own personal spiritual path in a dusty outback town in Australia, "India & Beyond" starts at childhood and goes from cow protection to Jesus in Denmark, through to ganja smoking holy men, cult religion, spiritual equality, and old age, each chapter an often comic journey through the challenge that is India. It records some victories and even delivers some questions, and all of it viewed from front row seats in the Eastern Philosophy grandstand. Are you game?
If you don't have an e-reader, PDF versions are available here in the right margin, payment via Paypal
Price: $2.99

See the blog for Plane Reading for Part-time Babajis
Click here to see Braj's blog Mayapur Days
Share this story your way:
Print
Facebook
Twitter
Google Bookmarks
StumbleUpon
Yahoo! Buzz
del.icio.us
Digg
Live
MySpace
PDF
Yesterday HH Bhakti Charu Swami Maharaj arrived a day early for the festivities. Many disciples, along with some of National School students were gathered at our main Mayapur gate to warmly welcome Bhakti Charu Maharaj. Maharaj first paid his respects to Srila Prabhupada in his Bhajan Kutir, and then made his way onward to Mayapur Chandrodaya Mandir.
by Nityodita das
Srila Prabhupada wanted NV residents to live directly from the bounty of Mother Earth and Mother Cow. He especially wanted devotees to grow their own food to offer to Krsna. In the winter of 1974, I moved to New Vrindavan attracted by that simple vision and immediately joined the garden crew under Tapapunja.
My first service was to help construct a greenhouse at Bahulaban to grow food and flowers for the Temple. That spring and summer I worked outside in the garden and fields, planting, mulching, weeding and harvesting. Prabhupada gave us a vision that we have to be prepared for thousands of people coming to our farms! So we worked hard and made many mistakes wondering how we were even going to feed ourselves!
In the fall, I was transferred to the Palace crew and never looked back! Decades passed and although I organized and participated in potato harvesting marathons when I was Temple President, I was seriously out of touch with the earth. As Varsana Maharaja puts it, I was no longer an earthling!
This spring, having been liberated from hands-on management of the temple, I planted a small vegetable garden at my house. Not wanting to repeat the mistakes of my past gardening experience, I studied the principles set forth in a great gardening book called Square Foot Gardening.
I followed the step by step method of creating my little garden. I made drawings, built the raised bed boxes and then, made my own soil! Yes! I mixed 1/3 compost, 1/3 vermiculite, and 1/3 peat moss and planted corn, carrots, tomatoes, peppers, squash, cucumbers, basil, thyme, parsley, okra, etc!
Everything grew nicely and I had very few weeds! In studying about enriching soil with compost, I learned that proper composting kills weed seeds by the high temperature generated in the process and therefore is a safe way to enrich the soil.
When I was making my soil mixture, I asked devotees if we had any compost at NV. I was disappointed to learn that although yearly we have tons of manure and tons of kitchens scraps and leftover prasadam, we do not have a single community compost pile or system. And although we have old piles of manure around the farm, they are sure to be loaded with thousands of unwanted weed seeds! Thus my interest in composting for Krsna was born.
Last week Tapapunja Prabhu and I drove a half hour into Ohio to visit a commercial composting facility. We were greeted by Stanley, the owner, a wizzled old hippie from the 70s, who proceeded to enthusiastically give us a tour of his facilities. He has known Ranaka for years as NV used to buy grain from him for our hundreds of dairy cows years ago. He explained that years back he was also running a 400 cow dairy. To deal with all the manure, he had purchased and set up the equipment to efficiently process hundreds of thousands of gallons of raw cow manure to make what he called, the BEST compost!
The process is simple but requires mixers, pumps and an expensive unit called an extractor. The extractors job is to squeeze the water out of the manure because manure is 85% water! What's left after the extraction process is the essence, a stackable form of the original cow manure. That is then moved and piled in long rows called windrows.
Over the next 4 months it sits there and is occasionally turned using a skidster to oxygenate it. With the action of millions of microbes the manure turns into beautiful compost, perfect to enrich any soil used in gardening, farming or landscaping! It needs no further screening because the cows stomachs have already done that work.
And what happened to all that nitrogen rich water that was squeezed out of the dung? Stanley leads us to a pond that used to hold hundreds of thousands of gallons of the effluent where it was held until it he sprayed it onto the fields. This manure tea is a better fertilizer than raw manure as it has NO weed seeds in it BUT all the nutrition!
A very nice process, indeed.
When Stanley decided to get out of the cow milking business, he realized there was still plenty of money to be made in…….. compost….but with no manure, what to do?
Well, Stanley…..knows that compost making is basically nature's process that takes "useless" material such as manure, leaves, sawdust, food scraps, paper waste, grass clippings, branches, etc and turns it into a USEFUL soil amendment, the foundational building block for Eco Logical sustainability.
So Stanley made deals with major grocery stores in WV and other sources of "useless" waste and trucks in tons of raw material to his farm. With a mechanical grinder, he blends these materials together, piles them in windrows, turns them over and lets nature take her course. Then he screens out any larger pieces and produces enough first class compost to be THE major supplier of compost for all the local nurseries, landscaping companies, parks, coops and serious gardeners in the area! In fact NV Community and individual devotees have bought compost from him for years!
Now Stanley is willing to help NV set up our own composting operation. Of course, he would like us to buy his retired equipment at very reasonable prices. If we are seriously interested, he is willing to come to NV, assess our present facilities and equipment, advise and guide us and even engineer the whole operation! He is very qualified to do so, having an engineering degree from OSU and many years of hands on experience.
He and his wife have also recently received Lord Jagannatha's mercy. At last years NV Rathayatra festival, after hearing how it would bring him good luck to pull the Lord's cart, he and his wife rendered service to Lord Jagannatha by joining the parade, taking up the ropes of the Ratha Yatra cart and chanting Krsna! Krsna!
Please share your realisations with other devotees from around the world...simply send me an introduction email and I will be happy to make you a member:

rasa108@gmail.com

ys

Rasa Rasika dasa
Yesterday was the auspicious appearance day of the two twin sisters Rangadevi and Sudevi. Rangadevi is the seventh of the varistha gopis. Her complexion is the color of a lotus filament and her garments are the color of a red rose. She is seven days younger than Srimati Radharani.Her personal qualities are much like those of Campakalata.

A group of devotees from Toronto's Hare Krishna community gathered to throw a mini-surprise party for Bhaktimarga Swami as he prepared to begin his FOURTH walk across Canada this year.

With Maharaj busy in a meeting, devotees hid in the restaurant with balloons, rose petals, a confetti stick and a garland and waited for Maharaj to be brought in! It was an explosion of colour and chanting as we then surprised Maharaj and brought him to a specially arranged table where we served a huge feast for him (and everyone present)!

The special menu included all of Maharaj's favourites: noodles, manchurian, cream cheese wraps, humus wraps, gauranga potatoes, Russian potato salad, asparagus, spinach sabji, pizza, paranthas, greek salad, strawberry/banana/coconut milkshakes and more!

The mini-surprise party was a huge success and we wish Maharaj all the best as he heads out for his fourth walk across Canada! Hare Krsna!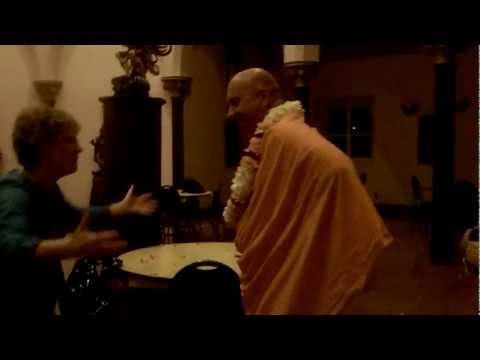 Bank Tibor about US forest fires, Fekete Iren about following the 4th in marriage, and Sadhaka dasa about communication with the guru.

Here is today's darshan.

Kavicandra Swami Harinama

My Facebook page has less than 100 friend requests to go before it will not accept any more, since the ceiling is 5000 friends.
I just thought I'd let you know.
By Giriraj Swami
An account by Varsabhanavi dasi on October 28, 2001, in Visalia, California. Varsabhanavi dasi works for Merrill Lynch in Johannesburg, and her company offered her a course in New York City to help her develop her skills as a financial analyst. The Merrill Lynch building is just across the street from the World Trade Center, and she was there when the attack on 9/11 took place