PLANET ISKCON


Here are the latest updates for you
My friend Jennifer Mazzucco just sent me this beautiful video about Tashi Mannox, an English calligraphy artist. I loved hearing his eloquent thoughts on creating devotional art that doesn't preach, but just tries to communicate philosophy and ideas that will uplift people. Tashi said that he feels the responsibility of an artist or musician is to uplift everyone they come in contact with.
Jennifer and I are creating a devotional art workshop together that we'll be presenting for the first time at the Kripalu centre this winter. Our aim is to explore the process of creating devotional art – how getting creative opens us up to a deeper sense of connection with the soul and the Divine, and how this act of creation can teach us so much about the joy of focus and detachment.
In other news, I'm in DC right now spending time in the recording studio with Gaura Vani. We're working on new music that encompasses both kirtan and Sanskrit mantras, as well as original English lyrics. It's a fun process, but very new to me also. Music can be so spontaneous and free flowing, and this suits the organic, immediate nature of prayer so well. In crafting something and attempting to capture it, it can be hard to retain the original feeling. Throughout, we must constantly remember that imperfection is inevitable – the creative spark that flares into a small, bright flame is only a tiny speck of divine beauty, and we are fortunate if we can hold it for even a moment.
THE FOLLOWING LECTURE ON SRIMAD-BHAGAVATAM, CANTO 3, CHAPTER 25, THE GLORIES OF DEVOTIONAL SERVICE, TEXT13, WAS GIVEN BY HIS HOLINESS BHAKTI CARU SWAMI IN ISKCON UJJAIN, INDIA ON 7th OCTOBER 2010. Transcription : Her Grace Ranga Radhika Dasi Editing : Her Grace Hemavati Radhika Dasi Audio reference: click here Om Namo Bhagavate Vasudevaya Om [...]
| | |
| --- | --- |
| | Every year I attend a conference which takes place in a beautiful Krishna temple nestled in the Tuscan hills above Florence. As part of the conference we spend a day in Florence sight-seeing, and at the end of a hot day walking from cultural icon to artistic masterpiece there is nothing better than an Italian ice cream. |
| | |
| --- | --- |
| | Think of someone you go to when you need help... someone who is always available... someone who has all the answers... someone who never gets angry or frustrated. Yes, I'm sure you've guessed it... Google! Those of you who were thinking of God are just old fashioned and out-of-touch! |
| | |
| --- | --- |
| | There are over 2 million home-educated children in the US, and this number is growing at 2% to 8% per year. This is not surprising, given the dismal track record of the public school system. If you have ever considered homeschooling your children (or even if you have not), here are six reasons to do it. |
We're bringing you yet another video of a program Kadamba Kanana Swami delivered recently in Australia. This one has been given at the Melbourne University on 11th Oct 2011, by the title Stress In The World Today. Over 80 mins long, which includes the kirtan, the lecture focuses on the world where one can exist eternally without stress.
Please visit youtube if you cannot see the video.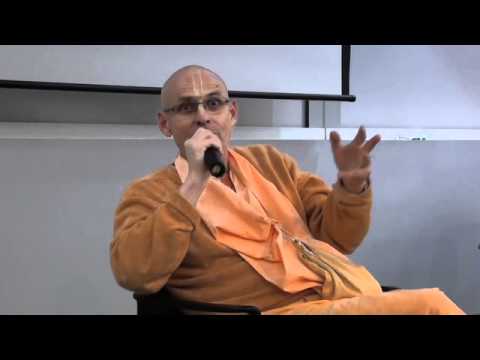 | | |
| --- | --- |
| | Odyssey Networks was on the scene yesterday after #OWS was dismantled from Zuccotti Park, and a large contingent of occupiers gathered at Canal Street and 6th Avenue. A group of multi-faith leaders and communities arrived in the temporary space to handshakes and warm greetings from the occupiers, and addressed the crowd with spiritual encouragement. |
Lately we've been hearing a lot about all the problems with our world with the occupy this, that or the other. Yet not many folks are proposing solutions. This is the fallacy I'm finding with most of the new movements out there. So in response to that I've comprised a short list of actions to [...]
| | |
| --- | --- |
| | A Glasgow-based entrepreneur and digital innovator has launched a new web application for iPhone and Android smart phones intended to help people on the go learn to cope better with some of the struggles of city life. |
| | |
| --- | --- |
| | Jews have long been the People of the Book. But as computers replace books and possibly libraries, museums, and universities, will they soon be the People of the Byte? If so, what will happen to their understanding of their history? |
| | |
| --- | --- |
| | Bhakti Vikasa Swami`s letter to the ISKCON Community. |
Please share your realisations with other devotees from around the world...simply send me an introduction email and I will be happy to make you a member:
rasa108 (at) gmail.com
ys
Rasa Rasika dasa
The final part of Sacinandana Swami's seminar on chanting from Soho St. London.
Green Curry of Vegetables & Fried Tofu
This is a delicious Thai-inspired curry with an easy homemade curry paste that can be whipped up in a few minutes in a blender. Although the curry paste is yellow-green, the curry itself will end up being more of a yellow colour from the turmeric. Feel free to add/substtute any other vegetables like broccoli, cauliflower, green beans, carrots etc. As with all curries, this one is perfect served with a big batch of steaming hot rice. Serves 4-6.
grinding the spice paste
750g (1½ pounds) potatoes, peeled and cut into 2.5cm (1-inch) cubes, oil or ghee for deep-frying, 2 tablespoons oil, green curry paste (recipe follows), 600ml (1 pint) coconut cream, 3 tablespoons lime or lemon juice, 375g (¾ pound) fried bean curd (tofu), 500g (1 pound) Chinese cabbage, cut into 5cm (2-inch) squares and steamed/stir-fried until tender, 2 cups green peas (thawed frozen peas or cooked fresh peas), 2/3 - 1 cup rich vegetable stock, heated, ¼ cup chopped fresh coriander leaves.
Deep-fry the potatoes in the oil or ghee in a wok or deep frying pan until golden brown and tender. Drain and set aside, covered.
Heat 2 tablespoons oil in a heavy saucepan over moderately high heat. Stir in a bit more than half of the curry paste (or more for a spicier curry) and fry it in the hot oil for 2 or 3 minutes, or until it starts to stick on the bottom.
Add the coconut cream and the lime or lemon juice, and cook for 10-15 minutes, or until the sauce is fairly reduced. Stir in the fried bean curd, and mix well. Heat through for 5 minutes. Mix in the cabbage, cooked green peas, and the fried potatoes. Add enough vegetable stock to form rich gravy. Simmer for a further 5 minutes. The potatoes will soak up a fair amount of juice, so be prepared to add more stock.
Fold in the fresh coriander. Serve hot with lots of hot rice.
Green Curry Paste
2 fresh green chilis, sliced,
1 teaspoon yellow asafetida powder,
1 tablespoon grated fresh ginger,
½ teaspoon black peppercorns, ground,
2 teaspoons ground cumin,
1 tablespoon ground coriander,
2 teaspoons chopped coriander root,
2 tablespoons chopped coriander leaves,
2 teaspoons sweet paprika powder,
1 teaspoon ground turmeric,
2 tablespoons grated dark palm sugar.
Process all the ingredients in a blender to form a smooth, green paste. If necessary add a few teaspoons water. You'll need a bit more than half of this paste for the curry. Spoon the remaining curry paste into a clean, screw-top jar and refrigerate for up to 3 weeks.
"And thus I travel, constantly singing the transcendental message of the glories of the Lord, vibrating this instrument called a vina, which is charged with transcendental sound and which was given to me by Lord Krsna."
Srimad Bhagavatam 1.6.32 conversation between Narada and Vyasadev
Narada Muni travels anywhere by strumming on his vina, a gourd instrument.
We were recently in Georgia, US, babysitting my granddaughter while both her parents were traveling on business. My son, Madhu, was at the Special Olympics in Alberta, Canada. The Johns Creek police department of which he is a member supports the Special Olympics and was one of the top fund raisers for it. He was chosen to represent them there.
He was also chosen as the Johns Creek Officer of the Quarter while we were there.
The day we left we awoke to a covering of snow. It didn't affect travel as the roads were still warm and it melted as fast as it landed there, but it did serve as a good starting point contrast for a trip to the South.
We went a couple of days early and on one of them on his recommendation drove up into the foothills of the mountains to visit the Gourd Girls. They are gourd crafters who have a retail store and produce most of the goods sold in it. (We were traveling and gourds were involved, hence the earlier reference to Narada Muni. :-) )
They wrote a book called "Gourd Girls" so you can get the whole story there.
If you happen to be in northern Georgia stop and visit The Gourd Place. It is about two hours north of Atlanta. We got a few more good ideas on how to use gourds, plus we got to buy some unique gifts for people that weren't Made In China.
We stopped and got some boiled peanuts at a roadside produce stand and also picked up some local honey and sorghum molasses. In big cities and the suburbs American culture is usually fairly homogenous. Staying in the suburbs you could pretty much be in any suburb anywhere, but when you get out into the country you start to pick up the local flavor.
I was struck by how little land was actually in production, and the huge potential for local agriculture to grow in and replace the fossil fuel intensive food infrastructure we have now with food shipped thousands of miles before being consumed.
Solar energy is a good thing but there is huge potential for energy savings through conservation that can be had that takes little investment. Like buying locally produced things and food.
While we were there we got to see Mary play in several lacrosse and basketball games as the seasons were overlapping.
That is Mary in the black tights and grey sleeves.
Anyway we got back home everything was okay and we have even gotten some decent weather to work in the garden.
| | |
| --- | --- |
| | It is the mandate of the GBC Strategic Planning Team to assist the Governing Body Commission in building a better future for ISKCON. In practice this requires solid visionary planning, the establishment of systems for the effective execution of those plans, and support of the GBC's desire to offer both better leadership and clearer global coordination. |
| | |
| --- | --- |
| | Forty-five skilled devotees from all over India attended the country's regional ISKCON Communications Conference from October 7th to 14th this year, at Delhi's grand Sri-Sri Radha Partha-Sarathi Mandir near the city's Kailash residential area. |
Here are the lectures given by H.H. Kadamba Kanana Swami on his tour through Bangladesh, in the month of Kartika from the 22nd of October to the 2nd of November 2011.
Recently Maharaja, accompanied by a group of devotees, went on an fantastic pilgrimage through the country of Bangladesh with the aim to visit different places of relevance to the vaisnava history. Pictures and an article about that very tour can also be found on the blog.
To download the lectures just klick on each title.
Here is a wonderful article written by Sutapa Prabhu, about Kadamba Kanana Maharaja's tour through Bangladesh (22nd of October to 2nd of November 2011).
Why go to Bangladesh? In the Caitanya Caritamrta, Krishnadas Kaviraja Goswami explains that since the time Caitanya Mahaprabhu visited East Bengal (Bangladesh), the country has been intoxicated by the holy names of the Lord. Also, prior to the Lords appearance, many of His eternal associates appeared in East Bengal, thus it has been an important place of pilgrimage for all Gaudiya Vaisnavas ever since.
With this in mind, HH Kadamba Kanana Swami led a group of 40 devotees around those sites in the auspicious month of Kartik 2011. Devotees had come from all parts of the world, including Germany, Australia, Bulgaria, England, India and South Africa, eager to delve deeper into the oceanic mercy of Lord Gauranga. Over the course of 10 days tour we practically covered the four corners of Bangladesh, travelling on trains, planes and automobiles to remote and isolated places, but places which were nevertheless full of spiritual potency. Here, we quickly discovered that three things are taken very seriously – chanting the holy name, honouring prasadam, and serving the vaisnavas!
We began in the North East of the country, visiting the birth place of Sacidevi, Caitanya Mahaprabhu's mother, and also the birth place of Sivananda Sena. Maharaj described how we visit these places to draw inspiration, deepen our connection and relationship, and ultimately develop the service mood of making these places known to the entire world. To this end, maharaj had invited Krishna Caitanya prabhu and Bhakta Boerg to film the whole yatra and eventually produce a video (watch this space!). After some more travelling we reached ISKCON Syhlet where the devotees welcomed us into the town on a fleet of mortorcylces while performing an enthusiastic harinam! The next day we travelled to the birth site of Advaita Acarya, which included a one hour drive on what must be one of the bumpiest roads in the world! The devotees have developed a nice temple there, and maharaj led an ecstatic evening program with lots of Kirtan and Krishna katha. The following day we visited the birth site of Jagannatha Misra, Lord Caitanya's father. Maharaj recounted the childhood pastimes of Nimai with his father, and elucidated the incredible bond of love that existed between them.
Our travels took us South towards Chittagong where we visited one of the biggest temple projects in the country – ISKCON Pundarik Dham. This is the appearance place of Pundarik Vidyanidhi, who was Vrsabhanu (Srimati Radharani's father) in Krishna Lila. Sri Caitanya Mahaprabhu called Pundarika Vidyanidhi "father," and He gave him the title Premanidhi in acknowledgement of his deep love of God. Here we celebrated Govardhan Puja with thousands of guests. Close by, we visited the bhajan kutir of Vasudeva Datta and Mukunda Datta. Maharaj recalled the amazing compassion of Vasudeva Datta, and explained how the vaisnava life is a life of giving, a life where we sacrifice ourselves for others, a life where we are not so concerned or preoccupied with our own comfort, but a life where we lose ourselves in service God.
After this we travelled back to our base in Dhaka. Here we spent the weekend observing the disappearance day of Srila Prabhupada. The devotees had arranged a huge pandal programme with thousands of guests attending. Maharaj led long kirtans and had all the devotees ecstatically dancing. In the classes he explained that if we stay loyal to the standards set by Srila Prabhupada, then we can reach the spiritual world even though we are lacking so many qualities. In this way, maharaj emphasised how s deep connection with Srila Prabhupada is essential for all generations of devotees.
From there we travelled the famous village of Kheturi where Narrotama Das Thakur appeared. This was the leg of the tour much anticipated by all the devotees. Here, Lord Gauranga deposited love of God for Narrotama in waters of the Padma river. When Narrotama entered the Padma, he felt himself undergo a vital transformation – he felt Mahaprabhu's embrace, his body turned molten gold, and he became madly intoxicated with love of God. Today, pilgrims visit Prema tali ghat where this historic event took place. As we reached, maharaj arranged a boat to take us right to the middle of the Padma. There, all the devotees bathed and prayed that their hearts would be transformed in the same way. Maharaj explained that such experiences in our devotional life create deep samskaras which carry us forward and purify our consciousness. We went on to visit the temple dedicated to Narrotama, and maharaj narrated more pastimes and lessons from his life. By this time it was getting dark so we decided to leave, but 5 minutes into our drive all the cars stopped. Maharaj then led the devotees into a pitch black field. As we walked through with our torches we came to a huge tree. Known as Bhajan Tali, this was the place where Narrotama das Thakur would perform his bhajan. After praying for blessings, scraping some dust and taking some more pictures, we departed.
As we came to the district of Jessore, maharaj had a spontaneous idea to visit the birthplace of Lokanath Goswami (Narrotama das Thakur's spiritual master). So we jumped into the car and drove one hour to the place, Talakhandi. From there we rushed into a university program organised by the local devotees, where nearly 100 students had gathered. Maharaj spoke about the parampara, the superiority of Bhakti, and the contribution of great saints, and how everyone can make a difference in the world if they become the servant of the servant. From there we visited ISKCON Rupa Sanatana Smrti Tirtha – the place marking where Rupa and Sanatana Goswamis performed Bhajan. We remembered the 6 goswamis and how they gave shape and form to the mission of Sri Caitanya Mahaprabhu. The dust of their lotus feet removes all obstacles and fulfils all desires.
We ended the tour by travelling to Benapole, the forest where Haridas Thakur chanted 300,000 names of the Lord daily. It was in this place that Haridas converted the prostitute Laksa Hira. As we sat in that holy place, maharaj said the best thing to do here was to simply chant. He added that we could meditate on how to become free from lust, the eternal enemy of the living entity. Haridas had no weaknesses, but our weaknesses are being constantly exploited by maya, and thus we need to pray for strength to avoid the temptations that attack us. From Benapole, we crossed the border to Haridaspura, and then took a bus to Sridham Mayapur where we arrived late into the evening. Everyone was physically exhausted, but spiritually enlivened.
Thus we completed a 10-day whirlwind tour of Bangladesh. Special thanks goes to Atul Krishna prabhu and the local Bengali brahmacaris who facilitated us so nicely. Everything was organised and coordinated perfectly. In between the tour so many pandal programmes were also organised by the local temples, attracting anything from 1000-3000 people.
It was an unforgettable tour. I probably covered about 1% of the spiritual gems and insights that maharaj gave us over the 10 days. Surely we will carry many things away and hold them in our hearts, hoping and praying that some transformation and purification will occur in our lives. Maharaj has said he would like to visit all the places where Caitanya Mahaprabhu and His associates went… we eagerly await the next tour!
Why it is that Lord Balarama threatened Arjuna while favouring Duryodhana. How is it He displays such contrary moods to Lord Krsna's?
What value and protection do we put on women as a class, are we following the vadic injunctions that are there to protect and elevate society?
Are we doing our duty?
This is a hard hitting documentary on the shameful fact that India which should have the highest of standards, has fallen to the point were girls can exchange hands from as little as $120. Into a form of slavery that was ruled illegal.
Not forgetting that the killing of girls in the wound, shows a lack of understanding on Karmic reactions.
This hard hitting documentary should make you stop and think, silence is not the answer, but education and protection as directed in the vedic scripture.
Aljazeera-English Slavery a 21st Century Evil
A pause of thought
It is estimated that more than 10million people in India are sold into a form of slavery, most are young girls and women.
Are you shocked get?
Question: The reincarnation theory claims that we get our characteristics from our own past-lives karma, whereas geneticsasserts that we inherit our characteristics from our parents, which is what we actually observe in the many physical resemblances among parents and offspring. Don't these observations disprove the reincarnation theory?
Answer:

No, they don't. The reincarnation theory doesn't claim to contradict or substitute

genetics

; it supplements genetics and explains many observations that genetics leaves unanswered.
Genetics holds that we inherit our characteristics from our parents. While the observation of parent-offspring physical resemblances may confirm genetics, many other observations question the completeness of genetic explanations. Here are a few of them:
Why do children born in the same family have moral and mental characteristics that differ from each other and also from their parents and even grandparents? For example, why does a child turn out to be an introvert although all other family members are extroverts?

Why do twins who are born and bred in similar conditions often have significantly dissimilar behavioural and personality traits? Their genetic inheritance is near-identical, yet their natures are sometimes widely different. For example, one twin becomes a starry-eyed artist who doesn't care much for money, whereas the other twin becomes a shrewd businessperson who doesn't care much for art. Why the difference?

Why don't the children of geniuses become geniuses themselves? Often musical maestros can't make their children into outstanding musicians just by begetting them or even by extensively training them. Why?
How do children of mediocre parents become geniuses? Many genius artists were born in families that had no above-average artistic talent for several preceding generations, yet they had an inborn talent. Where did their talent come from?
What explanation can genetics provide for the above observations – except for pushing them under the carpet by calling them "anomalies"? But the genetic carpet has too many concealed lumps to be overlooked; these observations demand an additional explanation. That additional explanation is provided by reincarnation.
The Bhagavad-gita (15.8) explains that the souls who transmigrate from one body to the next carry with them their conceptions of life, which can be correlated with the mental and moral characteristics. When children are born from parents, their physical bodies come from their parents and so they resemble their parents' physically, whereas their mental and moral characteristics come from their own past lives and so these characteristics differ from their parents'. Applying the Gitaunderstanding to geniuses, those souls who have in earlier lives cultivated the self-conceptions of being artists carry to their next bodies that conception along with its associated talents – and so appear precociously talented.
Thus, the reincarnation theory doesn't contradict genetics, but supplements it by explaining much that genetics can't explain.
Because these series on The Glories Of Devotional Service, Srimad-Bhagavatam. Canto 3, 25th Chapter, was not completely described, we are re-posting a few lectures to have the series running in a complete sequence now. Thank you for bearing with our decision. —————————————————————————- THE FOLLOWING LECTURE ON SRIMAD-BHAGAVATAM, CANTO 3, CHAPTER 25, THE GLORIES OF DEVOTIONAL [...]
Srila Prabhupada's Disappearance Day Orlando 10/29/2011

A daily broadcast of the Ultimate Self Realization Course Wednesday 16 November 2011 The Supreme Personality of Godhead, Lord Sri Krishna, and His eternal consort, Srimati Radharani are enjoying transcendental pastimes in the topmost planet of the spiritual world, Sri Goloka Vrindavan. They are beckoning us to rejoin them. (Click on photo to see a larger image.) Our Mission: To help everyone awaken their original Krishna consciousness, which is eternal, full of knowledge and full of bliss. Such a global awakening will, in one stroke, solve all the problems of the world society bringing in a new era of unprecedented peace and prosperity for all. May that day, which the world so desperately needs, come very soon. We request you to participate in this mission by reviving your dormant Krishna consciousness and assisting us in spreading this science all over the world. Dedicated with love to ISKCON Founder-Acharya: His Divine Grace A.C. Bhaktivedanta Swami Prabhupada, our beloved spiritual master, and to you, our dear readers. For Transcendental Association Connect With Other Members of this Course. Join this Conference: http://groups.google.com/group/sda_students Help Popularize Our Message By Liking Today's Thought on Facebook: Today's Thought: Vaidhi Bhakti Required to Attain Raga Bhakti uploaded from Sri Vrindavan Dhama, India In the beginning one engages in vaidhi bhakti, devotional service according to rules and regulations, under the direction of his initiating spiritual master. In this way he gradually becomes purified and eventually realizes his svarupa, his eternal identity in the spiritual world. Then after realizing his svarupa, he engages in raga bhakti, devotional service in spontaneous love. If one tries to jump to his svarupa without fully undergoing the purifying process of vaidhi bhakti, as elaborately described by Srila Rupa Goswami, he will fall down from the path of pure bhakti and become a sense gratifier. In this regard, recently we saw the example of a sannyasi who was teaching raga bhakti without vaidhi bhakti. After being sentenced to 14 years in prison for sexually molesting two girls he went into hiding to avoid his prison sentence. Therefore, while it is important to aspire for raga bhakti, one should always remember to faithfully serve the orders of his initiating spiritual master so that he will not become degraded and so that he will become genuinely qualified to enter the perfectional stage of raga bhakti. It is imperative that until realizing his svarupa he must faithfully execute vaidhi bhakti. And after realizing his svarupa he will dutifully act externally as a vaidhi bhakta to show the proper example for the neophytes. Sankarshan Das Adhikari Revealing the Sublime Bhakti Science Greater Noida, India--12 November 2011 http://www.backtohome.com/images/2011-Fall/Greater.Noida_Lecture2.JPG Answers by Citing the Vedic Version: Question: Significance of the Marginal Energy Hare Krishna Guru Maharaja, Please accept my humble obeisances. All glories to Srila Prabhupada. I'd like to put most humbly the following question: Could you please explain why Krishna creates the marginal energy from which we the living entities baddha jivas come into existence. Under this energy only there is a chance of misusing the free will, the cause of all sorts of material suffering. The nitya siddha living entities, those who are part of the internal energy of Krishna, never misuse their free will and never fall down. For enjoying loving exchanges and pastimes the internal energy would have been sufficient for Krishna. Then what is the significance of the existence of the marginal energy? Your servant, Supartha Answer: Marginal Energy is a Symptom of God's Love You have not understood correctly the Lord's energies. Every living being comes into existence from Krishna because He is the source of everything. All living beings are Krishna's internal energy, but they are also called marginal energy because they are endowed with the free will to love Krishna or leave Krishna. Those who choose to love Him are known as nitya siddhas, eternally liberated souls. And those who foolishly choose to leave Him are known as baddha jivas or conditioned souls. Who is liberated and who is conditioned is not God's choice. This is the independent choice of each and every individual living entity, whether he wants to serve God or try to be God. Because Krishna wants our love and because love cannot be forced, Krishna gives us the free choice to love Him or leave Him. This is why we, the living entities, although constitutionally internal energy are also endowed with a marginal nature. Without the marginal nature, the ability for the living entity to love Krishna or not, there is no question of loving exchanges with the Lord because one cannot be forced to love someone. Love must be voluntary. Sankarshan Das Adhikari Transcendental Resources: Receive the Special Blessings of Krishna Now you too can render the greatest service to the suffering humanity and attract the all-auspicious blessings of Lord Sri Krishna upon yourself and your family by assisting our mission. Lectures and Kirtans in Audio and Video: Link to High Definition Videos Link to Over 1,000 Lecture Audios Lecture-Travel Schedule for 2011 http://www.ultimateselfrealization.com/schedule Have Questions or Need Further Guidance? Check out the resources at: http://www.ultimateselfrealization.com or write Sankarshan Das Adhikari at: sda@backtohome.com Get your copy today of the world's greatest self-realization guide book, Bhagavad-gita As It Is available at:http://www.ultimateselfrealization.com/store Know someone who could benefit from this? Forward it to them. Searchable archives of all of course material: http://www.sda-archives.com Receive Thought for the Day as an RSS feed: http://www.backtohome.com/rss.htm Unsubscribe or change your email address Follow us on Twitter: http://twitter.com/Daily_Thought Thought for the Day on Facebook: http://www.facebook.com/Ultimate.Self.Realization Copyright 2005-2011 by Ultimate Self Realization.Com Distribution of this material is encouraged. Simply we request you to acknowledge where it is coming from with a link to our sign up page: http://www.backtohome.com Our records indicate that at requested to be enrolled to receive e-mails from the Ultimate Self Realization Course at: This request was made on: From the following IP address: {contact_address e
More Recent Articles