PLANET ISKCON


A daily broadcast of the Ultimate Self Realization Course Thursday 29 September 2011 The Supreme Personality of Godhead, Lord Sri Krishna, and His eternal consort, Srimati Radharani are enjoying transcendental pastimes in the topmost planet of the spiritual world, Sri Goloka Vrindavan. They are beckoning us to rejoin them. (Click on photo to see a larger image.) Our Mission: To help everyone awaken their original Krishna consciousness, which is eternal, full of knowledge and full of bliss. Such a global awakening will, in one stroke, solve all the problems of the world society bringing in a new era of unprecedented peace and prosperity for all. May that day, which the world so desperately needs, come very soon. We request you to participate in this mission by reviving your dormant Krishna consciousness and assisting us in spreading this science all over the world. Dedicated with love to ISKCON Founder-Acharya: His Divine Grace A.C. Bhaktivedanta Swami Prabhupada, our beloved spiritual master, and to you, our dear readers. For Transcendental Association Connect With Other Members of this Course. Join this Conference: http://groups.google.com/group/sda_students Today's Thought: Mantra Express Lecture at Russian Theatre Uploaded from Tallinn, Estonia The evening of 27 September 2011 was the time, and the prestigious Russian Theatre in Tallinn, Estonia was the venue that Bhakta Denis arranged for my Mantra Express lecture. It been promoted on Facebook, the newspaper, and on some fliers posted around Tallinn. I did not know how many people would come, but when I arrived I was pleasantly surprised to see the auditorium was completely packed with every single seat occupied. Even some benches had to be brought in to accommodate the overflow crowd. There is nothing more satisfying than seeing people being attracted by Krishna consciousness. Of course, this is natural because every living being is originally Krishna conscious. But because we live in a world that it 99.99% unnatural it is quite rare and extremely satisfying to see a person who is attracted to hear about their original nature. Sankarshan Das Adhikari Mantra Express Lecture--27 September 2011 at the Russian Theatre--Tallinn, Estonia http://www.backtohome.com/images/2011-Fall/Talinn_Theatre.jpg http://www.backtohome.com/images/2011-Fall/Tallinn_Theatre4.JPG http://www.backtohome.com/images/2011-Fall/Tallinn_Theatre1.JPG http://www.backtohome.com/images/2011-Fall/Tallinn_Theatre2.JPG http://www.backtohome.com/images/2011-Fall/Tallinn_Theatre5.JPG http://www.backtohome.com/images/2011-Fall/Tallinn_Theatre3.JPG http://www.backtohome.com/images/2011-Fall/Tallinn_Theatre6.JPG Answers by Citing the Vedic Version: Question: How Do Time and Karma Act? Honorable sir, I want to know how do time and karma act in bringing the result of one's past deeds. I am in the growing stage of Krishna consciousness, and I have a lot of trouble on the job. It affects me spiritually. What can I do to sustain my Krishna consciousness? Thank you, N. Kathikeyan Answer: They Act to Free You From Past Sins. To sustain your Krishna consciousness in times of difficulty always remember this: A devotee patiently suffers the reactions to his past misdeeds taking them as a token reaction for what he actually deserves. He accepts these reactions as the blessing of Krishna to free him from his past sins. While suffering these reactions he continually offers his obeisances to the Lord within his heart, and thus he becomes an eligible candidate for liberation from the cycle of birth and death. Sankarshan Das Adhikari Transcendental Resources: Receive the Special Blessings of Krishna Now you too can render the greatest service to the suffering humanity and attract the all-auspicious blessings of Lord Sri Krishna upon yourself and your family by assisting our mission. Lectures and Kirtans in Audio and Video: Link to High Definition Videos Link to Over 1,000 Lecture Audios Lecture-Travel Schedule for 2011 http://www.ultimateselfrealization.com/schedule Have Questions or Need Further Guidance? Check out the resources at: http://www.ultimateselfrealization.com or write Sankarshan Das Adhikari at: sda@backtohome.com Get your copy today of the world's greatest self-realization guide book, Bhagavad-gita As It Is available at:http://www.ultimateselfrealization.com/store Know someone who could benefit from this? Forward it to them. Searchable archives of all of course material: http://www.sda-archives.com Receive Thought for the Day as an RSS feed: http://www.backtohome.com/rss.htm Unsubscribe or change your email address Follow us on Twitter: http://twitter.com/Daily_Thought Thought for the Day on Facebook: http://www.facebook.com/Ultimate.Self.Realization Copyright 2005-2011 by Ultimate Self Realization.Com Distribution of this material is encouraged. Simply we request you to acknowledge where it is coming from with a link to our sign up page: http://www.backtohome.com Our records indicate that at requested to be enrolled to receive e-mails from the Ultimate Self Realization Course at: This request was made on: From the following IP address:
Robert K from New Mexico writes: "Can I make naan breads without a tandoor oven?"
My reply: Yes. They may not be as spectacularly scorched and smoky as the ones in this photo, but they are certainly an acceptable substitute. Here's my recipe:
Punjabi Baked Flatbread (Naan)
This popular leavened bread, especially enjoyed in Punjab in north-west India and Pakistan, is cooked in a traditional coal or wood-fired clay oven called a tandoor. Many versions of this flat bread are found throughout central Asia, from Iran in the East to the Soviet countries in the North.
The breads, enriched with milk, yogurt and butter, are slapped onto the inner walls of the hot oven where they cook quickly, partially puffing, and taking on a smoky flavour. The occasional charred spot from where the flames lick them adds a delightful crisp textured crust. This recipe calls for a household griller, which does a pretty good job.
If you have a tandoor oven, all the better. Naan are traditionally sprinkled with kalonji seeds that are also known as nigella seeds and occasionally misnamed as onion seeds. Kalonji seeds are available at Indian and specialty grocers.
DOUGH RESTING TIME: about 4 1/2 hours PREPARATION TIME: about 30 minutes COOKING TIME: about 6 minutes per bread YIELD: 6 naan
1/2 teaspoons dried yeast 1 teaspoon sugar 2 tablespoons warm water 1/4 cup warm milk 1/4 cup yogurt 4 tablespoons melted butter or ghee 3 cups plain flour 1 teaspoon salt 1/2 teaspoon baking powder 1 teaspoon kalonji seeds about 1/2 cup extra warm water 2 teaspoons extra kalonji seeds
Combine the yeast, sugar and warm water in a small bowl and set aside for 5-10 minutes, or until the mixture becomes frothy.
Mix the frothy yeast mixture with the warm milk, yogurt and melted butter or ghee. Combine the flour, salt, baking powder and 1 teaspoon kalonji seeds in a large bowl, and add the blended wet ingredients. Mix well, adding a little of the extra warm water at a time until the mixture leaves the side of the bowl and becomes a non-sticky, kneadable dough. Knead for 6-8 minutes or until smooth and elastic. Transfer the dough to an oiled bowl and set it aside in a warm place for about 4 hours or until it is well risen.
Punch the dough down and knead it briefly, adding a little flour if it is sticky. Divide the dough into 6 pieces and form each piece into a smooth ball. Place the balls on an oiled plate and cover them with plastic wrap. Allow the balls to rest for 10-15 minutes.
Pre-heat the griller to the highest setting. Place a shelf 12.5cm (5 inches) under the heat source, and pre-heat your baking sheet. Roll and stretch a ball of dough into a teardrop shape, about 25cm (10 inches) long and 12.5cm (5 inches) wide at its base. Repeat for one more ball of dough and spray the bread with water. Sprinkle on half the extra kalonji seeds.
Place the breads under the griller and cook them for about 3 minutes on each side, or until they rise and turn golden brown. Avoid placing the breads too close to the griller, otherwise the breads may not fully cook inside before browning. If you wish, allow the breads to become slightly toasted, with a few charcoal flecks.
Remove the breads from the oven, cover them with a clean teatowel and repeat the procedure for the remaining breads. Serve the naan hot or warm.

Hare Krsna dear devotees. I hope you are having a nice week of chanting. We are in the middle of the week, some still have a hard week of work ahead and others maybe a lot of preaching and temple service to do but we all need to have Japa as our priorities. Sometimes we arrange our lives according to our job or our services but I have heard that we should do different - arrange our lives according to our Japa making chanting the most important part of the day. Then after we chant we can do all the other things we have to do in life. How can we live without the holy names?

Today I had a nice realisation - no matter what situation you are in and how many distracting elements are around you, we simply need to have the determination to avoid all distractions in our life and make a big effort to just sit down and chant in a quiet place where we can fully concentrate on the sound of the Hare Krsna mantra.
It's not always easy....Maya has many tricks up her sleeve, but with knowledge and determination we can overcome her allurements and give proper respect to Krsna when chanting.
There is an example...if you call someone into your house and they come but you completely ignore them and continue to do other things - this is like calling out to Krsna (when we chant) and Krsna comes to your house but you completely ignore Him and do other things - then where is there a question of relationship?
When we don't listen to the words of the mantra (and only listen to the mind's thoughts), it's like ignoring Krsna (as He is present in the sound) and it's the same when we do other things at the same time as Japa - we are not being attentive to our relationship with Him.
Let us all give proper respect to the Supreme Lord and really try to fix our mind on the sound during Japa - give up inattention and take up good quality chanting.
Srimad Bhagavatam 1.3.3 a good sufficiency of knowlege is when you come to love Krsna

I was in a grumpy mood the other day. I mean all day long. An astrologer once told me my personality can swing from extremely high sattva to extremely low tama. Well, telling you this was one hella tama kinda day.
I don't even remember what kicked off this particular grumpfest, but once it set in it was stonelike. I couldn't be moved from it. Everything I saw, heard, touched, smelled, or thought about made me either depressed or mad. I cursed inanimate objects (a favorite pastime while in dark-ville). I used vocabulary absent from any Sanskrit dictionary.
People who don't know me very well – that is, practically everyone except my wife — think of me as mild-mannered, meek, quiet, lighthearted, and occasionally funny. I'm here to debunk such thinking. For example, when I'm in one of my modes, and I do mean modes, I'm likely to out and out willfully break things. Once, while adjusting the position of a plastic storage crate in our living room, the crate wouldn't budge, so I considered it appropriate to curse it in language that would melt the ears off Long John Silver while punching it until it shattered.
"What happened to that crate?" my wife asked, a few days later.
"I punched it," I said.
"What the HELL? You think you can just go around punching things? What's WRONG with you?"
Most of the time, I am indeed levelheaded. I don't wantonly and constantly lash out at household furnishings. It's just every so often, I don't know what comes over me. It's like I morph into a fiery demon with Tourette's.
This most recent case of the ultra-grumps had me depressed on top of being grumpy; "Why should I have to be this way? This is awful! This sucks!" I remember praying to our Deities for relief. As I sat before Them, feeling like the most condemned, miserly curmudgeon to ever besmear the face of the planet, I reached for the Krishna Book.
With aggravated fury seeping out of every pore of my body, I opened the book, searching for some antidote to my inner foulness, until I reached the adventure of Krishna killing Jarasandha's army multiple times and sending him back, defeated, again and again.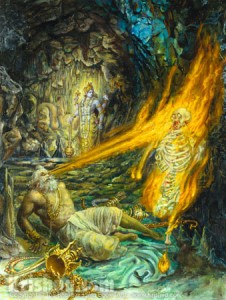 As I read about the carnage inflicted by the Supreme Personality of Godhead on Jarasandha and company, I felt fifteen pounds lighter. I began to laugh. By the time Krishna led Kalayavana to the cave where Mucukunda was sleeping, and Mucukunda awoke and burned Kalayavana to ashes with one angry look, I felt completely revived. I was cracking up. I felt like I was back to as close to normal as I get.
The Burst at Amherst

Little River to Amherst, Nova Scotia

Two Royal Canadian Mounted Police stopped their vehicles out of curiosity. We chatted. They were familiar with our Hare Krishna order. Then outside Shipley's Monuments, where they sell tombstones, Dave, the owner, caught my eye as I proceeded west.

"Where are you from?" He asked in a friendly tone. We talked of many things, including tombstones, and of life and death. In our community, we would likely not provide much business for Dave because we basically cremate our parish people. Dave was not concerned with anything but the fascination of the pilgrimage undertaken. After I left him to hit the road again, he proceeded to call his buddy Donald who told his buddy. Through word of mouth I suddenly had all these friends to talk to as they met me at the road.

Lilly Ann was walking and spotted monk, Matt, and I on the street in Amherst. We conveyed to her what we did the others, that this is a therapeutic walk meant to purge the soul, "Please try this Hare Krishna mantra."

Truly intriguing for me was to meet Dave of the Amherst Daily Paper. He picked up on the purpose of the trekking as a way to explore who you really are. I took that cue as a way to say that we are spirits. We are not humans, black, white, male, female, Buddhist, Christian or Hindu. We are a spark of life, moving on, trying to make good, being conscious of the Creator, loving Him, and seeking ultimate freedom.

There was one more Dave today who interviewed me right in the studio of CKDH 101.7 FM radio station. We got to speaking about the soul's motion from body to body and that we have this golden opportunity as a human to work at perfecting to the fullest capacity, our potential. I mentioned to him that I chant for 3 hours each day on my japa beads. He was astounded. "Three hours?" he repeated. I walk 6 hours each day so 3 hours of chanting is easy.

The Amherst area was the best yet for receptivity. In the beginning of the day I conveyed to Matt, "You know, here in Nova Scotia people are rather reserved. Even the police haven't stopped. By responding to a call that I might have escaped from a local penitentiary where the guys dress in orange." This has happened several times in the past. So here we are, the day started with the meeting between two mounties and a monk, and everything rolled out just great from there.

This portion of the first leg of walk four ends here. I will reconvene at the New Brunswick border in the spring of 2012. All goes well. Om tat sat. Daily walking reports will continue.

24 KM
He Slapped His Tail

Oxford/Little River, Nova Scotia

He slapped his tail against the surface of the water, warning his community that danger lurks in their midst. I was the intruder and the one sending the warning sign was a beaver. On the Cross Canada Trail leading up to Oxford, Nova Scotia, you will have these wilderness experiences. I also spotted a pair of grouse, bear feces everywhere, but most prominent was the work of the boys with the fancy sharp teeth and tennis racket tails who have made their mark. Their trails are abound. I saw a mini Hoover dam so expertly constructed, and at least one sizeable tree chewed off to a pencil point and then crashed to the ground.

Thicker trees are left alone, but not by the night chill. Autumn cold is turning leaves from green to deep orange and red. So that happens to those trees who stand alone. Those nestled by other trees are at this point protected from a chilly dynamic. This display of nature is to me, like attempting spiritual life all on your own. You are vulnerable to the onslaught of temptations when you try it solo. Once you commit to spiritual camaraderie, you are then sheltered from the attacks of maya (illusion). I'm fortunate to have Bhakta Jeff, a good supporting soul, to be present at every access area to the trail as he drives ahead. Once we reached Oxford we realized the trail merges with the highway. It was a disappointment. From there onward I ventured down the Highway 204 to Little River at Oxford. Jeff and I met with Charlie of the Oxford Journal for an interview and photo.

Boy, this is certainly not the Oxford we hear about in the UK, but it does boast having the world's largest blueberry, a metallic sculpture of the fruit.

We left the wilderness and small towns behind for a wild and ecstatic kirtan (chanting), a reunion with other brahmacharis (monks) in Halifax for the late afternoon. Halifax is another world. There's young people everywhere and they respond so well to the presence of us monks.

30 KM


4:20  A.M. Poem for September 28 The child Nimai went to the homes of neighbors and stole milk and disturbed their children. When His mother reprimanded Him, He broke the pots in the house and then came before her ashamed. Sometimes the Lord went with other children to bathe in the Ganges, and the neighboring [...]
446 — Poem for September 28 is a post from: EVERY DAY
From Spiritualized Dictionary "Lombrosium "Lombrosium comes from Cesare Lombroso, an Italian physician and criminologist (1909). It relates to the doctrines of Lombroso, especially that a criminal represents 'a distinct anthropological type with definite mental and physical stigmata and that he is a product of hereditary atavism, and degeneracy. Thus the Lombrosian approach to criminology.' Whether [...]
Selected Writings is a post from: EVERY DAY
4:29  A.M. Poem for September 27 Although Lord Caitanya's childhood pastimes appear exactly like those of an ordinary child they should be understood as various pastimes of the Supreme Personality of Godhead. In the first childhood pastimes the Lord turned upside down while lying on His bed and this showed His parents the prints of [...]
445 — Poem for September 27 is a post from: EVERY DAY
From My Dear Lord Krishna: A Book of Prayers "Yesterday when I wrote to You, I discussed, in part, my attempt to communicate with You. I said my prayers are writing exercises but real attempts to come before You openly for darsana. I wish to discuss this some more. I write to You to be [...]
Selected Writ­ings is a post from: EVERY DAY
| | |
| --- | --- |
| | Alexander came upon an Indian thief whom he got arrested and brought before him. A conversation ensued in which the recidivist reminded Alexander, a former pupil of Aristotle, that the renowned chieftain was himself a thief. |
| | |
| --- | --- |
| | In the aftermath of last month's riots opinions were divided as to their cause. "Existing criminals on the rampage," pronounced Justice Secretary Kenneth Clarke, while, in a display of party disunity, Work and Pensions Secretary Iain Duncan-Smith declared the problem to be "selfish bankers and MP's ignoring the plight of the poor." |
As far as charity is concerned, it is plain that charity should be given to the devotees of Krsna who are engaged in His devotional service to spread the Krsna philosophy, or Krsna consciousness, throughout the world.
If one gives some amount of his money to persons involved in distributing Krsna consciousness, that charity, given to spread Krsna consciousness, is the greatest charity in the world.
>From BGAII 11.54 purport
In my book "My Memories of Srila Prabhupada" I wrote:
This morning I was looking at a photo of Srila Prabhupada (In Srimad-Bhagavatam Canto 1 Volume 3) sitting very straight on his vyasasana, looking most aristocratic and determined, playing a gong and wearing a huge, beautiful flower garland. The vyasasana is also profusely decorated with flowers.
[end of quotation]
I plan to reprint this book and would like to include the photo described above. But I don't remember what it looks like, or exactly which photo I was referring to. If anyone on this list happens to have Srimad-Bhagavatam Canto 1 Volume 3 from the old series (with blue dust jackets, pre-1982) please have a look to see which one it was, and inform me.
hari-guru-vaisnava dasa, BVS ---------------------------- www.bvks.com
Stumbled across this in my blog archives while looking for something else. I posted it in 2008 but realize that many of my readers are new since then.  I hope you find it fascinating  too.
"For one who sees Me everywhere and sees everything in Me, I am never lost, nor is he ever lost to Me.
"PURPORT
"A person in Krsna consciousness certainly sees Lord Krsna everywhere, and he sees everything in Krsna. Such a person may appear to see all separate manifestations of the material nature, but in each and every instance he is conscious of Krsna, knowing that everything is a manifestation of Krsna's energy. Nothing can exist without Krsna, and Krsna is the Lord of everything — this is the basic principle of Krsna consciousness. Krsna consciousness is the development of love of Krsna — a position transcendental even to material liberation."
Bg 6.30
Why don't we see Krishna everywhere? Take the test in this video to find out why (fully realized souls, go ahead and skip this exercise).

See comments for a purport.
If you want to know why this phenomenon works as it does, go to this website.
Filed under:
Illusions
Present:
Gaura Shakti Dasa
Gopisa Dasa
Jaya Krsna das
Malati Devi Dasi
Ramesvara Dasa
Absent: Tripad Dasa
Agenda:
1)      What part of the Palace of Gold is of historic relevance?
2)      Next steps
3)      How to utilize the architectural work done so far by Kayafas Architects
The members of the committee agreed that Srila Prabhupada's house is the core of the Palace with the Rose Garden and should never be removed. The later on added part towards the pond is in its form not of historic value and can be destructed.
The following reasons request a new construction of a part of the Palace:
Handicap facilities
The visitors flow
The planned content of a tour (visitor's center, multi media show, Srila Prabhupada's museum and the Palace itself)
The desire to expand the glorification of Srila Prabhupada
The deterioration of the materials used; it is intended to use materials which will last for centuries and not for only a few decades
A proper design related to materials used, water drainage, mechanical infrastructure (water, electricity, AC)
An orientation towards LEED certification
Improved landscaping
Parking capacities and arrangements such as cross walk
Security issues
The committee decides that the facilities should allow having 250.000 visitors a year.  The layout should easily allow dealing with an average number of visitors plus 30%.
The followings steps have been identified for the near future:
Get a quote from Kalkreuth for the immediate repair to gain time for a proper design and the fundraising                             Gopisa
Get proposals for a new design/expansion

o Surabhi, contacted by                                   Jaya Krsna
o Sadhbuja and related designers of TOVP   Gaura Shakti
o Other individuals                                           all committee members
Review each devotee repair by professionals in order to guarantee longevity
4. A Story Board to be defined for the design teams.             Proposal by JKd
General decisions:
The main dome should be renewed.
The main elements of the outer area should be kept.
The fountains and lightening should be reactivated.
Gopisa will visit Kayafas Architects in order to get a proper understanding of their service related to the Palace renovation. Gaura Shakti will arrange a visit. Ramesvara will send copies of potential design for the dome.
JKd July 14, 2011
1972 September 28: "I am especially interested in your college program because students are intelligent and inquisitive so approach them nicely and lead them gradually to Krsna Consciousness. It is a very good sign that they are allowing us to reside on campus and propagate Krsna Consciousness. "
Prabhupada Letters :: 1972
This Saturday at the Sherwood Scout Hall, 14 Young St, Graceville. 5pm start!
1968 September 28: "The description given in my books are not mundane speculations but they are authorized versions of liberated souls presented by our humble self. So the strength is not in us but the strength is in the Supreme Lord. We simply must present them without adulteration in humble service spirit. That is the secret of success."
Prabhupada Letters :: 1968
1968 September 28: "You are speaking in the University as my representative. I may inform you these books which I have already prepared are the ultimate source of knowledge. Simply reproduce what I have explained in those books and you will surely come out victorious even in the midst of so many great scholars."
Prabhupada Letters :: 1968
1972 September 28: "It appears the new Deities that I have entrusted to you are being very well cared for, thank you very much. As long as Radha and Krsna are pleased, everything will operate very smoothly in your temple activities. Krsna gives all facility as much as He is pleased."
Prabhupada Letters :: 1972
1970 September 28: "Improve the standard as far as possible that should be our constant care. Turn over your intelligence to Krishna, He will bestow upon you more and more intelligence how to serve the Spiritual Master. Do not divert your attention elsewhere."
Prabhupada Letters :: 1970
1975 September 28: "It is the great mercy of Krishna that you want to serve me. Do not lose this opportunity. The best thing will be for you to immediately come and live with me. I will be glad to keep you as my constant companion for sometime so that you can learn Krishna consciousness and be useful for Krishna's service."
Prabhupada Letters :: 1975
1971 September 28: "I am always thinking of you and praying to Krishna when you will be relieved and join us again. Your hospitalization is an opportunity. Simply go on chanting and think of Krishna always."
Prabhupada Letters :: 1971
1971 September 28: "He is yet to learn a little more. Unless one is in our line of thought it is very difficult to translate nicely. He may associate with us and it will take some time to come to the perfectional stage."
Prabhupada Letters :: 1971
I am just trying to wipe out this Mayavada philosophy… Mayavada Philosophy is very dangerous for ordinary person… Mayavada Philosophy has played havoc in spiritual understanding leading to Atheistic tendency.
- Srila Prabhupada
Indradyumna Swami – kirtan. Ekaterinburg 2006.09.20.

More Recent Articles
---
Click here to safely unsubscribe from "Planet ISKCON." Click here to view mailing archives, here to change your preferences, or here to subscribe

---
---
Unsubscribe from all current and future newsletters
powered by
FeedBlitz
---
Your requested content delivery powered by FeedBlitz, LLC, 9 Thoreau Way, Sudbury, MA 01776, USA. +1.978.776.9498
TABLA - FUENTES - FONTS
SOUV2
Balaram
ScaGoudy
FOLIO 4.2
Biblica Font

Disculpen las Molestias
Planet ISKCON - 2010
·
Planet ISKCON - 2011