PLANET ISKCON


A daily broadcast of the Ultimate Self Realization Course Wednesday 24 August 2011 The Supreme Personality of Godhead, Lord Sri Krishna, and His eternal consort, Srimati Radharani are enjoying transcendental pastimes in the topmost planet of the spiritual world, Sri Goloka Vrindavan. They are beckoning us to rejoin them. (Click on photo to see a larger image.) Our Mission: To help everyone awaken their original Krishna consciousness, which is eternal, full of knowledge and full of bliss. Such a global awakening will, in one stroke, solve all the problems of the world society bringing in a new era of unprecedented peace and prosperity for all. May that day, which the world so desperately needs, come very soon. We request you to participate in this mission by reviving your dormant Krishna consciousness and assisting us in spreading this science all over the world. Dedicated with love to ISKCON Founder-Acharya: His Divine Grace A.C. Bhaktivedanta Swami Prabhupada, our beloved spiritual master, and to you, our dear readers. Special Announcement: Connect With Other Members of this Course. Join this Conference: http://groups.google.com/group/sda_students Today's Thought: Guru is as Good as God Uploaded from Bhaktivedanta Ashram, Austin, Texas USA I remember back in 1971 how amazed I was when His Holiness Vishnujana Swami told me, You have to accept the spiritual master as good as God. Although I did not express it externally, my first reaction to this idea was disbelief. But when I ignored my fickle mind and thoughtfully analyzed this concept with my intelligence, it began to make a lot of sense to me. Because every word and action of the spiritual master is a pure manifestation of Krishna's teachings and Krishna's mercy, why he should not be taken to be as good as God? Later on I found that this principle is confirmed by Lord Krishna Himself in the Srimad Bhagavatam, 11th canto, chapter 17, text 27 as follows: cryam mm vijnyn nvamanyeta karhicit na martya-buddhysyeta sarva-deva-mayo guruh "One should know the acharya as Myself and never disrespect him in any way. One should not envy him, thinking him an ordinary man, for he is the representative of all the demigods." Sankarshan Das Adhikari Spiritual Master is a Direct Manifestation of Krishna http://www.backtohome.com/images/Prabhupada/sp_preaching.jpg Answers by Citing the Vedic Version: Question: Is Guru Guru and Nothing Else? Gurudeva, Namaste My questions are: Have you seen real life after this unreal life? and Who is a better guru, the internal guru or external guru, who can safely perfect your life and lead you to Godhead in the present life? Yours in yoga Janardan V. Mali Answer: No. Guru is a Manifestation of Krishna By the grace of my spiritual master, His Divine Grace A.C. Bhaktivedanta Swami Prabhupada, I am constantly living in the real eternal life beyond this temporary material life. We cannot say that one manifestation of Krishna is better than another manifestation of Krishna. According to the Srimad Bhagavatam, 11th canto, chapter 29, text 6, Krishna Himself appears both as the Supersoul within the heart and externally as the acharya or spiritual master: naivopayanty apacitim kavayas tavea brahmyuspi krtam rddha-mudah smarantah yo 'ntar bahis tanu-bhrtm aubham vidhunvann crya-caittya-vapus sva-gatim vyanakti O my Lord! Transcendental poets and experts in spiritual science could not fully express their indebtedness to You, even if they were endowed with the prolonged lifetime of Brahma, for You appear in two features--externally as the acharya and internally as the Supersoul--to deliver the embodied living being by directing him how to come to You. In this connection it is also important to understand the following point explained by His Divine Grace A.C. Bhaktivedanta Swami Prabhupada in his purport to Caitanya Caritamrita, Adi 1.44: Every living entity is essentially a servant of the Supreme Personality of Godhead, and the spiritual master is also His servant. Still, the spiritual master is a direct manifestation of the Lord. With this conviction, a disciple can advance in Krishna consciousness. The spiritual master is nondifferent from Krishna because he is a manifestation of Krishna. Sankarshan Das Adhikari Transcendental Resources: Receive the Special Blessings of Krishna Now you too can render the greatest service to the suffering humanity and attract the all-auspicious blessings of Lord Sri Krishna upon yourself and your family by assisting our mission. Lectures and Kirtans in Audio and Video: Link to High Definition Videos Link to Over 1,000 Lecture Audios Lecture-Travel Schedule for 2011 http://www.ultimateselfrealization.com/schedule Have Questions or Need Further Guidance? Check out the resources at: http://www.ultimateselfrealization.com or write Sankarshan Das Adhikari at: sda@backtohome.com Get your copy today of the world's greatest self-realization guide book, Bhagavad-gita As It Is available at:http://www.ultimateselfrealization.com/store Know someone who could benefit from this? Forward it to them. Searchable archives of all of course material: http://www.sda-archives.com Receive Thought for the Day as an RSS feed: http://www.backtohome.com/rss.htm Unsubscribe or change your email address Follow us on Twitter: http://twitter.com/Daily_Thought Thought for the Day on Facebook: http://www.facebook.com/Ultimate.Self.Realization Copyright 2005-2011 by Ultimate Self Realization.Com Distribution of this material is encouraged. Simply we request you to acknowledge where it is coming from with a link to our sign up page: http://www.backtohome.com Our records indicate that at requested to be enrolled to receive e-mails from the Ultimate Self Realization Course at: This request was made on: From the following IP address:
Srimad Bhagavatam 1.1.23 - The Srimad Bhagavatam is the transcendental sound representation of the Personality of Godhead.

In the Japa Room this week, we had many devotees attending and some very varied discussions. We talked about the task for the week which was to identify the most important change we had made in our Japa and what inspired that change.
One devotee mentioned that they had slowed down their chanting and found they could hear properly with concentration and was able to pronounce alot better....the inspiration for this change was from participating in a Japa seminar with Sacinandana Swami.
1st session
= Every Fri. 11.30pm GMT / 6.00pm EST
* To see the time in your city
click here
2nd session
= Every Sat. 1.30pm GMT / 8.30am EST
* To see the time in your
click here
I was offered this intriguing fruit at a cookery class that I facilitated last weekend in Canberra.
It's known as Buddha's Hand Citron, or fingered cirtron [Citrus medica var. sarcodactylis] and is also known as in Japan as bushukan.
The origin of the Buddha's hand plant can be traced back to Northeastern India and China.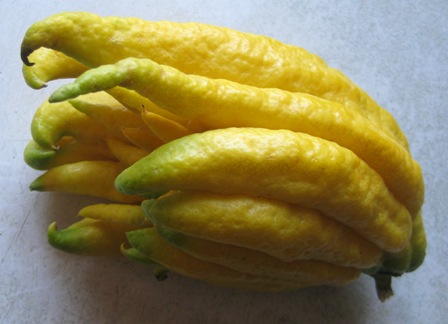 I am thinking of making candied citron out of it, since it is purely peel without any fruit or juice inside, but not at all bitter.
I'll keep you posted on the outcome.
...and here is the last slideshow from the Janmastami 2011 series.
Dearest Srila Prabhupada,

Please accept my humble obeisances in the dust of your lotus feet.
All glories to your divine appearance!
All glories to your causeless mercy!

It's 10:54pm on the most auspicious occasion of your appearance and I am still in the process of composing what will probably remain an inadequate offering. My problem lies in the fact that it is impossible to express my gratitude in words and even harder to choose amongst your unlimited good qualities!

I was trying so hard to eloquently compose something beautiful when now, at this late hour, I am realizing I can only hope to convey what is in my heart. Srila Prabhupada, this summer, what to speak of this past year, has been so interesting. So many lessons, so many opportunities, so many challenges and most importantly so much mercy to absorb.

Amongst all that, one theme keeps coming up- unwavering determination and faith. Determination to serve for the sake of service without any preference or expectation for recognition. Determination to always behave like a vaisnava, which is actually extremely difficult for uncultured individuals such as myself. Determination to do one's duty and carry out the orders of the spiritual master without any expectation for the outcome of the results. And most importantly, faith that Krsna always knows what's best and to put full trust in Him.

You, my dear Srila Prabhupada, exemplify all this. You personify what Krsna speaks to Arjuna in the Bhagavad-gita:

vyavasāyātmikā buddhir
ekeha kuru-nandana
bahu-śākhā hy anantāś ca
buddhayo 'vyavasāyinām

Those who are on this path are resolute in purpose, and their aim is one. O beloved child of the Kurus, the intelligence of those who are irresolute is many-branched. Bg. 2.41

In the translation, you give us a beautiful definition of what vyavasāyātmikā means- resolute in Krsna consciousness. You personify this. Your resoluteness in Krsna consciousness is the reason why we are all here today. You faced what seemed to be countless insurmountable challenges, but you never wavered. You took so much shelter in the instructions of your spiritual master HDG Bhaktisiddhanta Sarasvati Goswami. In fact, you always said "My spiritual master is always with me."

Such faith and determination does not come cheaply. It is a result of great realization, trust and surrender. It is no doubt that you are a pure devotee who is so dear to Krsna and yet you came to the material world, undergoing all types of trials and tribulations just to save ungrateful individuals like myself who have no idea, even after so many years, what it actually means to be Krsna conscious.

My dear Srila Prabhupada, on this day of your glorious appearance, please first of all forgive me for procrastinating and only writing this offering at the last minute! Secondly, please give me that determination and faith you had in your spiritual master so that I too can follow in your footsteps and the footsteps of those who follow you. Please allow me to see every challenge or obstacle as a gift and allow me to feel gratitude and imbibe the lessons that Krsna is trying to teach me. Please allow me to have complete trust and faith in the Holy names of Krsna. I long for the day when I can say with full confidence and realization that everything is in Krsna's holy names.

Your aspiring servant and granddaughter,
Vrndavana Vinodini dasi

Sometimes I would think, "Who is he? Nobody knows who he really is or where he really came from or how great he really is." Especially in Boston I began to feel very strongly that he was such a great personality and that I was viewing only a very, very minute glimpse of him, and that actually much, much more was going on than I could realize.
from Srila Prabhupada-lila 7-3: A Visit to Boston, 1968
ISKCON Orlando, USA: Srila Prabhupada Vyasa Puja – Trivikrama Swami offering – Orlando 2011
H.H. Sivarama Swami: Janmastami-kirtana August 22nd
August 23rd, 2011
Radha-Syama's 15th installation anniversary.
H.H. Sivarama Swami: Janmastami-kirtana August 22nd
Radha-Syama's 15th installation anniversary.
Dear Srila Prabhupada please accept my humble obeisances. Today on your appearance day I feel most fortunate to be connected to the movement of Sri caitanya mahaprabhu through the threads of your causeless mercy. Till 2008 you were the spiritual master of my spiritual master and I could not imagine that I could have a personal connection to you. At A retreat by HH Bhakti charu swami, we were
On the occasion of Lord Krishna's appearance day, the African BBT has released its first book in Xhosa, one of the eleven official languages of South Africa. Xhosa is the native language for about 8 million people. The book is a translation of Srila Prabhupada's Beyond Birth and Death.
Tota Gopinatha Dasa First printing: 5,000 copies. The translator: Tota Gopinatha Dasa. The graphic designer: Khotso Kholopane.
The Padma Purana from the Vedic literatures (which by the way are millions of years old) say that there are 8.4 million species on this planet and that the soul can take birth in any species according to one's karma. The definition of species is different from the modern classification of species.
Modern scientists define species purely based on the morphology of a creature whereas the Vedic science delineates species based on the combination of three modes of material nature with the living being. Depending on the combination of material nature and consciousness of the living being, a body is allotted by material nature to the living being.
Modern science purely designates a species based on external features.
Interesting enough modern scientists estimate that there are totally 8.7 million different species on earth, a number very close to the Vedic counterpart (which is 8.4). Anyways, I take the Vedic science as truth as the number will not change, modern estimates change with time which therefore diminishes its value.
Hare Krishna
1968 August 23: "Pondicherry was made famous on account of press work. The sound of press goes long long distance, long distant places, so the organization of press and literature and public sales, should be our main business."
Prabhupada Letters :: 1968
1973 Auugst 23: "Whoever joins us they are not under any obligation - our only tie is Love of Godhead. We recruit a person to join us after spending gallons of blood. It should be our definite policy that nobody is ill treated that he may go away."
Prabhupada Letters :: 1973
1970 August 23: "I am the same Spiritual Father and Guide of you all. Without being empowered by Krishna nobody can preach the glories of His Holy Name, that is the verdict of all Scriptures. And the only means for acquiring this spiritual strength is to abide by the orders of the Spiritual Master."
Prabhupada Letters :: 1970
1970 August 23: "I came to your country at a very old age and within four or five years we have expanded beyond expectation. Now if all you work with the same zeal and establish another set of 30 to 40 branches with necessary influx of devotees, then I am sure our Krsna Consciousness Movement will prove a solid fact."
Prabhupada Letters :: 1970
1965 August 23:
"Today Annada Ekadashi. We started towards Red Sea at about 12/30 noon. The sky is almost clear, there has been sunshine since the starting of the trip from Cochin port. We are floating now on the Arabian sea. The whole night passed. My sea sickness again began."
Jaladuta Journal :: 1965
1968 August 23: "I have decided to publish Srimad-Bhagavatam in 12 volumes, naming them differently in this way; 1st vol., Creation; 2nd vol., Cosmic Manifestation; 3rd vol., Status Quo; 4th vol., Mercy of God; 5th vol., Creative Energy; 6th vol., The Rulers of the Universe; 7th vol., Activities of God; 8th vol., Dissolution; 9th vol., Liberation; 10th vol., Ultimate Goal; 11th vol., General History; 12th vol., The Age of Deterioration."
Prabhupada Letters :: 1968
1971 August 23: "Regarding Indira Gandhi there is no hope. The high commissioner has informed. So it is Lord Caitanya's desire that a Vaisnava shall lay down the cornerstone instead."
Prabhupada Letters :: 1971
1972 August 23: "Yes, President Giri can open the foundation ceremony. Let us invite many responsible persons - the Prime Minister, Governors. Let us place our philosophy before a very respectable assembly. People have not yet understood how glorious is our philosophy."
Prabhupada Letters :: 1972
Here is the first batch of pictures of the Janmastami fever at Melbourne Mahaprabhu Mandir
Then spangling dark night's velvet cloak,
in time and place divinely meant,
stood stars in silent lines that spoke
how here is love incarnate sent.
Marking the all-auspicious hour
that for an age shall yet be marked,
predicting that the purest power
has here with us to earth embarked.
Speak, mystic seer of the skies,
that we the wretched joyful be,
how one free from all hate and lies
has come to lead humanity.
And all you gods, let cry with might,
that all the worlds may wakened be,
to gaze with wonder on the sight
of man's departing misery.
Today forgiveness does descend
to walk among us: Gurudeva.
The thralldom of transgression ends
in freedom that you freely gave.
Until this day shall be proclaimed
in every quarter of the earth,
and every man shall know your name,
we yet shall take repeated birth.
The legend of a long lost land
made real today, as you have shown
how they who take your outstretched hand
shall find it, our forgotten home.
O Prabhupada, we can but pray
that you might throw your sidelong glance
on us, and thus, by grace we may
enter the everlasting dance.
Filed under:
Poetry
Sat meditating on the appearance day of Srila Prabhupada my mind wondered to last year as I awoke from sleep, a cold shiver ran through my back, what if. What If: Srila Prabhupada didn't follow his own Guru Maharaja's instructions What if he never took that perilous journey to the states What if he gave [...]
Please share your realisations with other devotees from around the world...simply send me an introduction email and I will be happy to make you a member:

rasa108@gmail.com

ys

Rasa Rasika dasa
By Indradyumna Swami
Today on the occasion of your Vyasa Puja it is with great pleasure I report to you that once again hundreds of thousands of people have received the great mercy of Lord Caitanya Mahaprabhu on the Baltic Sea coast in Poland. That mercy has taken the form of your books, the holy names, prasadam distribution, and the blissful association of many wonderful devotees
A Workshop with Devamrita swami As an addition to Sunday's festival, tomorrow evening, Wed 24th August @6pm, the international speaker, Devamrita swami, will be delivering another insightful and potent presentation on genuine yoga knowledge, in the form of a group discussion. Bring an open heart and a thoughtful mind, and enjoy a delicious vegetarian meal [...]
Abhishek Kirtan – Balarama Jayanti Festival at New Mayapur – August 13, 2011

By Rupanuga Das
Even though Bhagavad-gita and Srimad Bhagavatam were spoken and recorded in 3,000 B.C., it wasn't until 1965 A.D., 5,000 years later, that these original sastras containing the Yuga Dharma were released from India by His Divine Grace A.C. Bhaktivedanta Swami Prabhupada. Bhaktivinode Thakur had previously inaugurated the Hare Krsna Movement, the emblem of that Yuga Dharma, when he sent his Caitanya—His Life and Precepts to McGill University, Canada, in 1896
More Recent Articles
---
Click here to safely unsubscribe from "Planet ISKCON." Click here to view mailing archives, here to change your preferences, or here to subscribe

---
---
Unsubscribe from all current and future newsletters
powered by
FeedBlitz
---
Your requested content delivery powered by FeedBlitz, LLC, 9 Thoreau Way, Sudbury, MA 01776, USA. +1.978.776.9498
TABLA - FUENTES - FONTS
SOUV2
Balaram
ScaGoudy
FOLIO 4.2
Biblica Font

Disculpen las Molestias
Planet ISKCON - 2010
·
Planet ISKCON - 2011