PLANET ISKCON



Here are the latest updates for you
Transcription : Bhaktin Ramola Editing : Hemavati Radhika Dasi Prabhupada Realizations by HH Bhakti Charu Swami – Friday Morning- HH Bhakti Caru Swami -Drakenberg Seminar South Africa Ramayana means the glorious activities of Lord Ramacandra. But to understand the glories of the Sri Ramachandra, we have to understand the glory of Srila Prabhupada. Rather to [...]
HH Kadamba Kanana Swami's Schedule, Sydney 2010

by Bhakta Michael
Tuesday
12-Oct
Class at Temple
7:30 PM
Wednesday
13-Oct
SB Class
7:45 AM
Thursday
14-Oct
SB Class
7:45 AM
Harinam in the City
7:00 PM Please come along and bring everyone you know
Friday
15-Oct
SB Class
7:45 AM
Home program 42 Russell Avenue, Wahroonga (RSVP to Aseem prabhu – 0408 010 424)
7:00 PM
Saturday
16-Oct
SADHANA Retreat, Turramurra
Sunday
17-Oct
SADHANA Retreat, Turramurra
Class at the temple
6:00 PM
Check out the facebook Harinam page
Harinam every thursday at 7pm come along
Share this story your way:
OUSTON (KTRK) — Valuable statues were stolen from a temple in north Houston. Now, temple leaders say they are willing to pay the person who stole the statues to bring them back.
The statues were taken from inside the Hare Krishna Temple at 34th and Golf.
It involved the amount of faith invested in the objects inside the temple, and worshippers pleading for them to be returned.
It is an ancient religion with precise rituals that revolve around the Hindu god Krishna and a host of deities.
Food is offered to their statues several times a day. The figures are dressed in ornate clothing, and throughout the day, people pray before them.
Except now, there is an empty spot at the altar where two statues — one of Krishna and the other of his female counterpart — are missing. They were stolen late Tuesday night.
"My feeling is that it's just a senseless type of thing," temple priest Maha Hari Das said. "Somebody thought they could get a few dollars for it or something."
The statues are made of brass and weigh about 40 pounds each. Less precious than copper, they would bring a small amount of money if sold for scrap. But the temple's concern is their spiritual value. Replacements take several months to make in India, followed by weeks of installation ritual.
"And installation means we invite the lord to come and reside within the deity so that's why it's irreplaceable because then we don't consider it a statue but the lord himself," temple priest Chaitonya Das said.
That's why the loss is very personal to those who worship here. For now, they say their prayers to a framed picture of the statutes that were stolen, prayers offered for their safe return.
Their faith includes the belief in karma, a divine payback for deeds — either good or bad.
"Whatever they've done, such as sinful activities and they'd get punished for it," Chaitonya Das said. "And if they return it, God would also forgive them, so the law of karma would work in their favor if they return it."
The philosophy leads the temple to what's probably an extraordinary offer: the full replacement values of the statues will be given to whoever returns them; that includes the person who stole them in the first place.
HPD also has informed all scrap metal businesses in Houston to be on the lookout for them. So far, they have no responses.
(Copyright ©2010 KTRK-TV/DT. All Rights Reserved.)
Share this story your way:
The rain could not extinguish the fire from this Harinama Party. A 26 strong team of Devotees attended and chanted for 1.5hrs in Brisbane City pulling down a storm that swept the streets of the city clean.
One whole bucket came down full of Prasadam cookies which were then distributed to the passersby who are hungry for spiritual nourishment. Nitai Gaura Premanandi! HARIBOL. We are expecting to see you all out on the streets. Come on! Show Brisbane how it's done. I dare you, I double dare you!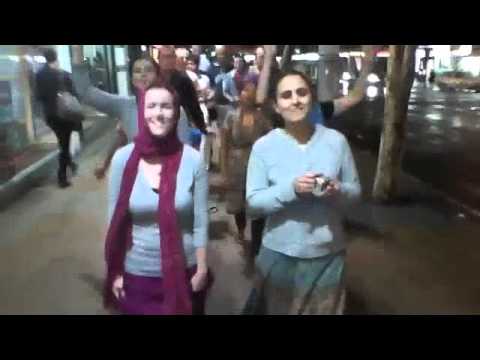 Share this story your way:


Photo by Naveen Gupta
All the big cats came down to the farm at Millfield in New South Wales on the east coast of Australia and man they really, really, wailed. The roof was blown off on a number of occasions, and the doors had to be kept open to prevent damage.
Recently New Gokula Farm in Millfield, near Cessnock NSW, hosted the latest 24 Hour Kirtan festival, and what a festival it was. Devotees came from everywhere to participate in the event in the beautiful surroundings of the farm.
The entire event sound mixed by Ekendra Dasa and was broadcast live via the interenet with and audio and video stream powered by Sitapati Dasa of www.kirtanaustralia.com extending the reach of the event to a world audience.



Photo by Naveen Gupta
"I felt the festival was a success for one standout reason," Says Nimai Hawkins the driving force behind the New Golkula festival. "Everyone gave kirtan everything they had."
Nimai sees a connection between the 24 Kirtan series and street Harinam. According to Nimai 24 hour kirtan is not a mater of preaching to the converted. "Sri Caitanya Mahaprabhu locked the doors of Srivas Angam when they held their all night kirtans. Not only were there no 'newcomers' present but they were banned. The hidden presence of a relative of one of the devotees was nearly made punishable. We are of course not banning newcomers from our programs but welcoming them with open arms. Yet still, why did Mahaprabhu do this?" Nimai says.
"To me the answer is," Nimai continues, "that Mahaprabhu wanted to set an example of how to inspire devotees. If we're always preaching and we forget that we have to remain inspired ourselves and go back home back to Godhead in this lifetime then what's the benefit? When we associate with our intimate friends and fire each other up to get out on the street than we remain in such a state of enthusiasm and never lose devotees along the way."
"These are my realizations on this program of chanting and dancing," Nimai says. "All devotees should pursue a life of Harinam Sankirtan in the close intimate sadhu sanga of 24 hour kirtans or in the revolutionary spirit of saving the world on harinam."
"I am 1000% behind the Harinam sankirtan revolution," Nimai says. "There is not a flicker of doubt in my mind that this is the only way to save not just our society but the entire world from the perils of the onslaught of Kali yuga. I am seeing all my friends, who were just a year or so ago not so interested in Krishna consciousness, pursue chanting with a determination unrivaled anywhere in the world."



Photo by the ant
The farm is the home of Their Lordships Sri Sri Radha Gokulananda. These beautiful deities share the altar in the temple with Gaura Nitai, Lord Jagannatha, Baladeva and Lady Subhadra and the parampara of ISKCON.
The farm is nestled on 500 acres pn the edge of a leafy forest at the base of a large tree covered hill. The luckiest cows in the coutry live here under the loving care of Kaliya Krsna Dasa.
Check out the New Gokula web site by clicking here.
Re-live the event by watching the final kirtan


video by kirtanaustralia.com
Share this story your way:
Dear John Lennon,
Happy Birthday to you mate.
I hope Prabhupad is letting you stay at his place, after you so gracioulsy let him stay at yours 'All those years ago,' and say hello to George for me.
'Tell him I love him.'*
Antony
*I once read that in his last days, Srila Prabhupada took a ring from his finger and said to the devotees attending him: "Give this to George, tell him I love him."
Share this story your way:
Hello Everyone,
to see a picture from Erika's archive of J & J 2008 (click their tab and scroll)
Tolerance
Please take a some time to visit the Care For Cows website, read the October Newsletter, watch some videos, become inspired.
Best Wishes, in service to the Oxen,
Chuck
Chant
Hare Kṛṣṇa Hare Kṛṣṇa Kṛṣṇa Kṛṣṇa Hare Hare

Hare Rāma Hare Rāma Rāma Rāma Hare Hare
| | |
| --- | --- |
| | Mumbai's four ISKCON temples celebrated World Holy Name Week from September 26th to October 10th this year, with ISKCON Juhu hosting the first and the biggest event. |
| | |
| --- | --- |
| | There has never been a red mud disaster as serious as the one that hit seven villages in Western Hungary on Monday, October 4th. |
Srimad Bhagavatam 11.25.14 - It is lust only, the all-devouring sinful enemy of this world.
Chanting of Hare Krishna is meant to bring us attachment to Krishna Himself, to please Krishna and eventually to invoke our pure love for Krishna. We should chant with that in mind.
Recently, members of our Toronto Temple Council, along with Bhaktimarga Swami joined representatives form ISKCON Centres across Canada for the Annual Canadian Leaders Meeting in Wakefield, Quebec. In this video HH Bhaktimarga Swami leads a rocking kirtan by the bonfire one evening. Video courtesy of Radha Krishna devi dasi.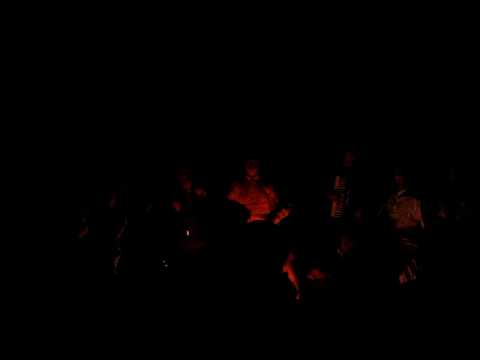 www.sdgonline.org.
3:50 A.M.
From Namamrta by A. C. Bhaktivedanta Swami Prabhupada:
"While chanting the holy name, one should not desire material advancement:
[Isvara Puri to Lord Caitanya]: "'Religiosity, economic development, sense gratification and liberation are known as the four goals of life, but before love of Godhead, the fifth and highest goal, these appear as insignificant as straws in the street.'"
"While chanting the holy name of the Lord, one should not desire the material advancements represented by economic development, religiosity, sense gratification and ultimately liberation from the material world. As stated by Caitanya Mahaprabhu, the highest perfection in life is to develop one's love for Krishna (prema pumartho mahan sri-caitanya-mahaprabhor matam idam). When we compare love of Godhead with religiosity, economic development, sense gratification and liberation, we can understand that these achievements may be desirable objectives for bubhuksus, or those who desire to enjoy this material world, and mumuksus, or those who desire liberation from it, but they are very insignificant in the eyes of a pure devotee who has developed bhava, the preliminary stage of love of Godhead." (Sri Caitanya-caritamrta, Adi-lila 7.84)
Chanting Hare Krishna should not be done for achieving material happiness. It is a process intended for something much higher. The goals of material achievement are considered as not important to those who chant Hare Krishna. The great followers of Lord Caitanya gave up seeking material achievements when they turned to being followers of the Lord. Rupa Goswami, Sanatana Goswami and Raghunatha dasa Goswami gave up posts of opulent material wealth when they followed the Lord. They were satisfied to live as mendicants with very little material possessions. They had the possession of bhava and found material life distasteful. Certainly they did not chant Hare Krishna trying again to achieve material enjoyment or liberation. Chanting of Hare Krishna is an entirely different thing intended to please Krishna and bring the chanter to the preliminary stage of love of Godhead. Lord Caitanya says in Siksastakam that He does not desire wealth or beautiful women or followers, but all He wants is the Lord's devotional service, life after life. There is a deliberate avoidance of the material advantages for the chanters of Hare Krishna, since they see these things as impediments to spiritual advancement. The opposite is never true: that chanters perform their japa and kirtana in an attempt to gain material advancement.
I awoke this morning with a headache at 1:30 A.M. It was sharp, and I took medication and began chanting with impairment. I have been in a slump in recent weeks in terms of speed. I do not know the cause of it, but the chanting is slower than I want it to be, and when it is slower it tends to be less attentive. I will discuss it with Narayana Kavaca when he comes back in a few days and see if I can come up with a solution. From 1:30-3:30 A.M. I barely chanted 12 rounds, and they were not the best.
Do not chant

for material advancement.

That is a completely

contrary plan. The

japa is meant to release

us from the life of

material striving, we should

chant with the desire

to minimize our wants and

increase our desire

for serving Krishna.

When you utter Nama

Prabhu, you should

be alert and moving

rapidly through the rounds.

This is an indication of

eagerness and application

of will. I do not

like this slough and

seek to throw it off

and move like a

sprinter or a long-

distance runner

with strength for the

meet.
www.sdgonline.org.
One Hundred Prabhupada Poems, #52
Funny the ways of your disciples, Prabhupada,

spinning around without you yet always with you.

Funny the ways we argue

the ways we cooperate but pursue our own ends.
You remain the center of the Hare Krishna movement

in each of its schisms. One says, "They

are not keeping Prabhupada in the center."

The other side says,

"No, it's we who are keeping him in the

center. You are doing nothing but causing disruption."
Odd how I forget you and come back to you.

Strange, we do things we wouldn't dare

if you were here.

But you wanted us to be on our own:

Go ahead, see

how you can manage without me.

Krishna wanted you back.

Maybe we wanted to be controllers of your movement,

to be "supreme" or at least top gurus.
So many mistakes and still

you engage us and we are able to serve.

"Don't try to see Krishna. That is not such a

great thing. You can see Him twenty-four hours a day.

More important is to do something
so that Krishna will see you and be pleased."

Prabhupada is leading us with strong statements

and policies

into his presence.
www.sdgonline.org.
Krishna is avyakta, unseen by

the ordinary eyes. All we see is

objects, of nature and man-made.

But the wise know that all things

are His energy. They can see

Krishna in a grain of sand, and

eternity in an hour. They see

through the eyes of the sastras.




Caksus sastra—there He is,

driving the chariot of Arjuna,
handsome and dangerous,

unconquerable. There He is—

crawling in His mother's courtyard,

playing but killing a giant

witch. There He is—

in the rasa dance, with

the most beautiful women in the universe.

Krishna can be seen

by the faithful.

His transcendental form can

be beheld by those

whose eyes are

anointed by the salve

of Krishna-prema.

He can't be seen by the

mental speculator, the

materialist, the sense-

enjoyer, the one who is

simply not interested

in finding out God.

But we should be

interested in finding Him.

Our life depends on it.

If we die without finding

the Lord, we've lived

in vain. It begins

by hearing His names.
He's present fully in His

sound vibration coming

straight from Krishnaloka

like a telephone connection.
He hears us when we

chant, and He is pleased

with our devotion. Constant chanting leads

to meditating on His pastimes

and that leads to seeing

His form in our hearts.
The complete, surrendered art

of chanting leads us back to

Godhead where we may sport

with Krishna and His dear ones.
Don't say He can't be seen.

It's just your lack of

trying. He has made it

very easy in this age.

Just approach His

pure devotees and sing

with them.

Krishna wants

everyone to be with Him.

Only the fools are

left outside the

circle of love.
www.sdgonline.org.
Free write
I turned at random to Srimad-Bhagavatam, Canto 1, Chapter 19, verse 32:
"You are the spiritual master of great saints and devotees. I am therefore begging you to show the way of perfection for all persons, and especially for one who is about to die."
Unless one is truly anxious to inquire about the way of perfection, there is no need to approach a spiritual master. Some people accept a spiritual master as a kind of pet just to say they have a guru, but they don't really inquire from him about the absolute, nor do they follow any austerities or orders given by a bona-fide spiritual master. The pseudo-disciple and pseudo-spiritual master go to hell. Maharaja Pariksit is the right kind of disciple because he puts forward questions which are of concern for all people, especially for the dying. Maharaja Pariksit knew that he had seven days to live, but we don't know if we have even seven minutes to live. We should be anxious to inquire about what a person should hear, chant, remember and worship, and what he should not do. This question put forward by Maharaja Pariksit is the complete thesis of the Bhagavatam, and we should study how the great master replied. It is not just for Maharaja Pariksit but for everyone, because everyone is about to die.

I think I'll do another Bhaktivinode Thakura reading with Rama Raya. Yesterday I couldn't go for my walk because it was raining. Can you go deeper? You can talk of your time of death, but I'm not interested much in it right now because it doesn't seem imminent. Of course, it is imminent, but I think I have some years left, so I don't worry about it. If I had a terminal disease I'd be more concerned. My body is fairly at ease except for the headaches. I had one already this morning at 7:00 A.M. but I subdued it with medicine. I'm able to control them fairly regularly with pills. I don't know if the pills are building up a side effect. Right now I'm comfortably in my chair.
Saci read me about the relationship of Lord Caitanya and Jagadananda Pandita, which is like the relationship between Krishna and Satyabhama. Jagadananda Pandita brought aromatic oil from Navadvipa, but Lord Caitanya refused to use it. Jagadananda Pandita smashed the jar in the courtyard and went home and locked himself in his house. Three days later Lord Caitanya went there and asked Jagadananda Pandita to cook for Him. Jagadananda happily cooked a wonderful lunch and made Lord Caitanya eat ten times more than He usually ate. In another incident, Jagadananda Pandita made a comfortable bed for Lord Caitanya out of red silk fibers with a pillow. The Lord refused to use it. Svarupa Damodara made a simpler bed out of banana leaf fibers, and the Lord accepted it. Jagadananda was angry. He asked for permission to go to Vrndavana, and the Lord reluctantly allowed him to go. They had a very close relationship, but it was often expressed in quarrels.
Can you go deeper? I am what I am. "Are you a pure devotee?" Vishnujvara asked me in front a roomful of disciples. I gave some evasive answer. "Are you on the spiritual plane?" another man asked me. What you see is what you get. If I knew, I wouldn't tell you. Wise-guy answers to impertinent questions. Taken from Writing Sessions, the scrapple of the apple. Nutty. Evidence. In walked Bud. Giant steps. After the rain. We could make beautiful music together. All the things you could be by now if Sigmund Freud's wife was your mother. They goof around. Some more Hare Krishna devotees moving into the neighborhood. A man moving up here because his ex-wife and new husband moved here, and he wants to see his children on the weekends. Marital strife.
Krishna digs down deep in the mine. He crawled into the long tunnel where the king of bears, Jambhavana, lived. He fought with him about 28 days until the gorilla or bear admitted to himself, "This must be God," and he gave up. He turned over the jewel and his daughter to Krishna. Krishna digs deep. He stuck His tusk into the demon Hiranyaksa, or rather He picked up the earth in His tusk. He fought in different avatar forms. Stuck His red-hot fist down Kesi, the horse-demon's, throat. Brought Trnavarta down from the sky by becoming heavier than lead. He punched Kamsa to death. Our dear protector. He delivers the demons, gives them transcendental situations. Our dear beloved, captured the hearts of all the young women. They all wanted to marry Him. He married 16,000 wives captured by Bhaumasura. He gave them each a palace to live in in Dvaraka. He is the impersonal brahmajyoti and the Supersoul.
We'll get through the storms and if I perish, please post this writing on Facebook for the benefit of readers so they don't have to read People magazine or Time, or even an interpretation of Vedanta-sutra. Make it easy.
| | |
| --- | --- |
| | The Catholic Bishops of Northern Ireland have criticised the holding of a conference dealing with abortion. |
| | |
| --- | --- |
| | Over 5,000 Bulgarians demonstrated Friday in Sofia to demand that religious instruction in this majority Orthodox country become compulsory in schools, police said Friday. |
| | |
| --- | --- |
| | The settlement — like scores of others that dot this harsh landscape — is populated by members of the Bishnoi, a community that traditionally reveres and protects nature. |
In Vedic literature it is said that God, Krsna, simply accepts your bhāva or your situation, how much you have developed your attraction for God, or Krsna.

That is taken into account.

He does not take account that "Oh, you are very rich. You are very beautiful. You are very opulent," or "You are very poor. You are not beautiful."

These considerations are not there.

The only consideration is how much you love God.

Then your life is successful.

- Srila Prabhupada
You have got love within you. You want to love somebody. A young boy tries to love a young girl, young girl tries to love another young boy. This is natural, because the love is there. But we have created certain circumstances that love is being frustrated. Why? Everyone is frustrated. Husband, wife, boys, girls, man to man, states to states, everywhere, the love is not being utilized properly. Why? The missing point is that we have forgotten to love the Supreme Person. That is the disease.



So the purpose of religion is to train persons how to love God. That is the purpose of all religion. Either you take Christianism or Hinduism or any "ism," the purport is that you try to love God, because that is our natural inclination. Even in uncivilized society, when there is some thunderbolt, they immediately offer obeisances. That is natural. And in the Srimad-Bhagavatam it is said, sa vai pumsam paro dharmo yato bhaktir adhoksaje [SB 1.2.6].



Now this word dharma is translated or explained in the English dictionary, "religion," as "a kind of faith." But in Sanskrit dictionary, dharma means characteristic. Just like sugar. Sugar's characteristic is sweetness. If you are given some sugar, if you find it, it is not sweet, you at once reject it: "Oh, it is not sugar. It is something else." So that sweetness is the characteristic of sugar. Similarly, sour taste is the characteristic of salt, pungency is the

characteristic of chili.



Similarly, what is your characteristic, living entity? That you have to study. That is your religion. Not that Christian religion, Hindu religion, or this religion, that religion. Your eternal characteristic, what is that eternal characteristic? You want to love somebody, and therefore you want to serve. That is your characteristic. You want your society... You love your society, you love your family, you love your country, you love your community. Because you love, therefore you serve. That is your characteristic.



Either you are Christian or either you are Muhammadan, either you are Hindu, this characteristic will go on. Suppose today you are Christian, tomorrow you become Hindu. That service mood, that loving spirit, goes with you, either you become Hindu or Muslim or Christian. Therefore that service spirit and love, the tendency to love and service spirit, is your characteristic, and that is your religion.




That is the universal form of religion. You have to apply your natural characteristic in a certain place, where you will be satisfied. Your service spirit is (indistinct). You have to apply your natural characteristic in a certain place, where you will be satisfied. Your service spirit is there, your loving spirit is there, but because it is misplaced, you are not happy, you are frustrated, you are confused.



The Bhagavata gives you indication, sa vai pumsam paro dharmo yato bhaktir adhoksaje [SB 1.2.6]. That is the first-class system of religion, which trains you to love God. And if you have developed that tendency to the fullest extent, to love God, then you are perfect man. And then you will feel perfection within yourself. Yayatma suprasidati. You are hankering after satisfaction, full satisfaction. That full satisfaction can be obtained only when you love God. That is the natural function.



- Srila Prabhupada
Here are the flyers for our upcoming festivals of The Burning of Ravana (Dusherra) and The Festival of Lights (Diwali). I have recorded three short video clips to explain about these two festivals, and also about the month of Kartika (23rd October to 21st November) and the celebration of Govardhana Puja (Annakuta). You can see them at www.krishnatemple.com. At least the first one is up at: http://www.youtube.com/watch?v=wqJCXU86gfw
| | |
| --- | --- |
| | How can God appear logical to a person to whom the very terminology of the science of God is unintelligible? Thus it is ludicrous when those who are spiritually blind, deaf, and dumb demand that God be made "logical" to them and that His existence be "proved." |
Yet more recipes by my cooking guru, Yamuna Devi. Before attempting to cook any of her recipes, make sure you are aware of the difference between US measures and Australian/metric measures. See below*
This buttery cookie bears some resemblances to Scottish shortbread. To the basic recipe, try one of the following additions: ¼ cup ground pecans, cashews, almonds, pistachios or walnuts or 3 tablespoons puree of dried mango, apples, cherries or papaya.
Preparation time (after assembling ingredients): 15 minutes, Baking time: 1 hour, Makes: 2 dozen small bars.
1 cup unsalted butter, at room temperature, 1 teaspoon crushed cardamom seeds or 2 teaspoons fresh ginger paste, ½ cup (110g) superfine sugar or jaggery, 2½ cups (300g) unbleached white flour, ½ cup (85g) fine semolina (pasta flour), ¼ teaspoon salt, ¼ teaspoon baking powder.
Preheat the oven to 250 F (120 C).
Cream the butter and cardamom or ginger in a mixing bowl, then gradually add the sugar and beat until light and fluffy. (If you are using a dried fruit puree, work it into the sugar-butter mixture).
Combine the flour, semolina, salt and baking powder on a sheet of waxed paper and mix well. (If you are using nuts, add them to the dry ingredients).
Add the dry mixture to the butter and work with your hands until thoroughly blended into a dough. Alternatively, place all of the ingredients in an electric mixer, and with a dough hook, mix on low speed until thoroughly blended.
Press into an 8x10–inch (20x25cm) rectangle on an ungreased baking tray. Score the surface to make 24 cookies, and prick the surface with fork tines at 1-inch (2.5 cm) intervals.
Bake
for about 1 hour or until pale gold but not brown. Cool for 10 minutes in the pan. Carefully cut again over the scored markings. (If you want to sprinkle the surface with sugar, do it as soon as it comes out of the oven).
*Note that since Yamuna wrote her recipes using US measurements, the weights are in US with metric in brackets.
More importantly, her tablespoons are US (15ml) whereas Australian/metric tablespoons are 20ml. So if you follow these recipes using metric measures, your tablespoons should be scant.
Similarly, the US cup is 240ml as distinct from the Australian/metric 250ml cup. The same scant measuring should thus apply to Australian/metric cup users.
The teaspoon is a universal 5ml.
| | |
| --- | --- |
| | I pondered how Srila Prabhupada's books continue to change lives to this very day, even though he's no longer on the planet. |
| | |
| --- | --- |
| | The baby-carrot industry tried to reposition its product as junk food, starting a $25 million advertising campaign whose defining characteristics include heavy metal music, a phone app and a young man in a grocery cart dodging baby-carrot bullets fired by a woman in tight jeans. |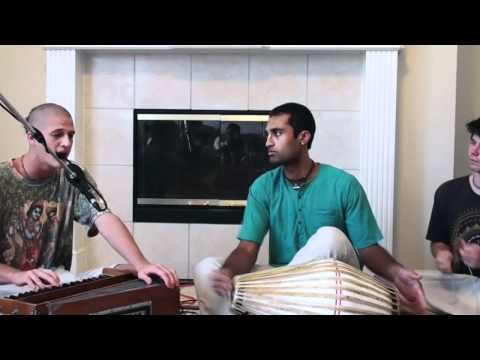 Mukunda das singing a Hare Krishna bhajan at a home program.
Mukunda (vocals), Kapil (drum), Gopinath (flute) 
Dallas, TX

2010-07-10 
Download:
2010-07-10 - 3 - Mukunda das - Hare Krishna.mp3
Parasuram das: Singers are Giri Dhari Prabhu and Govinda Prabhu. The Saturday night Hari Nama is made up of individuals who don't live in Temples. It's a spontaneous job. There are many Hari Nama parties going out every day in London - Yeah! But they don't rock like us
By Vijaya das
The good news for the month of August is that our world headquarters, Mayapur Dham, was #1, with 63,929 book points! Way ahead of any other temple. They must have received some special inspiration from Srila Prabhupada, Jayapataka Swami, who has been spending more time there, and Bhakti Purusottama Swami, who encourages the devotees in their book distribution.
In this SB lecture from Alachua, Mayamaya dasi discuss's the Japa Retreat in very interesting reflections and realisations from the experience.


Bhajan – Prahladananda Swami – Hare Krishna


1967 October 8: "The movement which I have started will fulfill the desires of those who are actually anxious to have bona fide spiritual guidance. There are other swamis & yogis in your country who can simply exploit the sentiment but they can not deliver the real thing."
Prabhupada Letters :: 1967
1967 October 8: "My mind is always with you. India is foreign country for me. My material relationships are in India. Practically your country is my home now. Where my spiritual family exists, there is my home."
Prabhupada Letters :: 1967
1971 October 8: "So don't be disheartened at any circumstance. Depend on Krishna. After all this is the kingdom of maya. She is always peeping to take the opportunity of attacking us, but if we fix up our attention on the Lotus Feet of Krishna, maya cannot even touch us."
Prabhupada Letters :: 1971
1972 October 8: "Now that you are Temple President you have very great responsibility to take proper care of all the devotees. As much as you are sincere to simply serve then Krsna will give you the intelligence from the heart, have no doubt."
Prabhupada Letters :: 1972
1973 October 8: "He still owes about $20,000 to the Society's funds. Unless he pays it back as soon as possible, I cannot expect his business to be very profitable. Therefore I have always asked him to stop this business. He says he will stop but he does not do so."
Prabhupada Letters :: 1973
1974 October 8: "Materialistic man creates diplomacy and conspiracy for sense gratification. We follow in the footsteps of Lord Sri Caitanya Mahaprabhu. So if we are actually following, where is the question of conspiracy?"
Prabhupada Letters :: 1974
1974 October 8: "I am training some of my experienced disciples how to manage after my departure. So if instead of taking the training, if in my lifetime these disciples say - I am the Lord of all I survey - that is a most dangerous conspiracy."
Prabhupada Letters :: 1974
1974 October 8: "Whatever is done is done. I wanted you all my experienced disciples should manage without any personal ambition. The preaching work of the Gaudiya Math has become smashed on account of personal ambitions."
Prabhupada Letters :: 1974
The Magic Mountain Festival, other wise known as Govardhana Puja, will be held in the Masonic Hall on 1st Avenue, Burliegh Heads, Queensland, on October 23rd, 2010, 6PM until 10PM.
There will be a cultural dance performance by the Natyashakti Dance Troupe, as well as live music by Crystal Dolphin and the Bhajan Babas. Come along for the drumming circle and you will also enjoy the special guest performer and storyteller.
Don't forget there will be a light vegetarian/vegan meal provided.
To cover sosts there will be a $15 cover charge. Tickets are available now at the Pashin shop, 31 Burleigh Heads and Govindas at surfers Paradise. Tickets are also available at the door on the night. Please tell your friends and come along with them.
Find more on the Bhakti Centre Gold Coast web site
Share this story your way:
More Recent Articles
---
Click here to safely unsubscribe now from "Planet ISKCON" or change your subscription or subscribe

---
---
Your requested content delivery powered by FeedBlitz, LLC, 9 Thoreau Way, Sudbury, MA 01776, USA. +1.978.776.9498
Subscriptions
TABLA - FUENTES - FONTS
SOUV2
Balaram
ScaGoudy
FOLIO 4.2
Biblica Font

Disculpen las Molestias
Planet ISKCON - 2010
·
Planet ISKCON - 2011